Sturgeon's challenge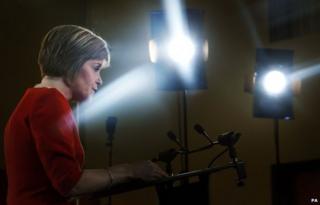 Nicola Sturgeon will face many challenges ahead - on the realistic presumption that she is elected SNP leader and thus first minister.
Not, incidentally, that she was making any such presumption today: her linguistic tense was uniformly conditional.
To add to those structural challenges, a transient one. Ms Sturgeon's voice was discernibly struggling after the rigours of the referendum.
Facing a comparable challenge, I tendered a comradely throat pastille. (For the avoidance of any doubt, I would do likewise for any other politician from any other party. Laryngitis knows no boundaries.)
But, if her voice was slightly (and only slightly) below par, her meaning on a range of issues was clear and sharp: in her speech, in responding to media questions and in subsequent interviews.
Firstly, the referendum. She accepted the result "unequivocally". She declined, without caveat, to encourage any of the social media conspiracy theories.
Close relationship
The referendum and the count were conducted properly. "Yes" lost.
Secondly, the leadership. She would follow, to the letter, the SNP's rules.
Should anyone stand against her, she would "welcome" the challenge.
It was up to the party to nominate candidates and to choose a leader and deputy, one member, one vote. (Rather a lot of members, as it happens, given the surge since the referendum.)
She would not pick a running mate as deputy. But she would seek to build a close relationship with the individual chosen by the party.
Regardless of whether the leadership is contested, she will traverse Scotland talking to party members, established and new.
Thirdly, government. She did not remotely accept the argument advanced by her opponents that the Scottish government had been "on hold" for the duration of the referendum.
Nevertheless, it would be right to institute a policy review on taking office to ensure that the administration was working to maximum effectiveness in the interests of the Scottish people.
Fourthly, Alex Salmond. She owed him an "immeasurable" debt. No, not for delaying by a decade the point at which she faces the challenge of leadership. (Remember she was a candidate for the top job ten years ago until Mr Salmond offered to resume his tenure.)
Rather she said that he had "transformed the SNP", he had made Scotland a better place as first minister - and he had helped make her "the person and politician" she is today. Plus she liked him, he was a chum.
Fifthly, the issue of more powers. Her tone was consensual. She wanted more powers to be devolved.
She would work with others, including other parties, for such an outcome. She was optimistic regarding such a prospect.
The SNP will put forward two people to work with the Smith Commission - but may also seek to offer back-up expertise from the Scottish Government, if thought suitable. The Nationalists are taking this seriously.
Equally, however, if there is backsliding (which, to repeat, she does not anticipate or wish), then there would be a political price to be paid by the parties supporting the Union.
More powers
Sixthly, political ethos. In government, through the party, through more powers, she remained a social democrat, seeking to blend economic growth with equity and public service.
It was important to build upon the energy witnessed during the referendum, to engage the people.
Finally, independence. She backs it. She believes it remains the best option for Scotland. She believes it will happen.
How? Through a referendum - not any other electoral route. Repeat not: she was asked twice and gave the same answer, twice - which displays comforting consistency.
When? Not for her to say or indeed any democrat. That would be determined by popular wish and electoral mandate.
No precision, in short - not even "a generation" or "a lifetime".
To be absolutely clear, Nicola Sturgeon said, repeatedly, that she was not planning a further referendum. She did not envisage, at this stage, such a development.
But consider two points. She believes independence will happen. She believes, firmly, that the only route is through a referendum - not, as others have suggested, a future SNP majority at Holyrood.
That means, if her aim is to be achieved, that a referendum there must be.
Two possible scenarios were discussed in interchanges with the media.
One, what if there was discernible backsliding by the pro-Union parties over more powers? Referendum?
Ms Sturgeon did not rule out the idea - but she did not particularly encourage it either.
Partly, that is because her strategic and tactical choice is to posit the prospect of success in the search for more powers, to involve the SNP in that process.
Partly, it is because that would appear rather soon.
Ms Sturgeon herself briefly floated another constitutional development. Once again, she did it twice.
What if a future referendum resulted in the UK voting to quit the European Union? What if Scotland voted a different way? What if the verdict, consequently, ran contrary to Scotland's wishes?
Might that, we were invited to ponder, generate a constitutional crisis? I asked Ms Sturgeon to specify whether she envisaged an independence referendum in such circumstances, presumably with the aim of restoring Scottish EU membership.
Again, she declined to be specific. Prevailing circumstances, including the will of the people, would determine when Scotland again faced the choice rejected last week.