Value of Scottish fish landings fall by 9%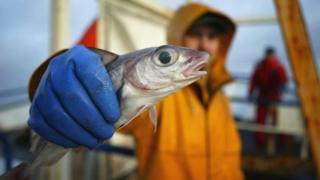 The value of fish landed at Scottish ports dropped by 9% last year, according to figures from Scotland's chief statistician.
A total of 367,000 tonnes of fish and shellfish was landed in 2013, with a value of £430m.
The number of active fishing vessels based in Scotland was 2,020 at the end of 2013, a decrease of 26 from 2012, but employment numbers rose.
The figures update provisional statistics published in April.
Scottish Fisheries Secretary Richard Lochhead said: "Given the backdrop of the difficult economic trading conditions these statistics show that overall the volume of landings from the Scottish fleet held up reasonably well in 2013.
"I am encouraged to see there has been a 5% increase in the number of fishermen employed on Scottish based vessels."