Virgin adds new flights from Glasgow in summer 2015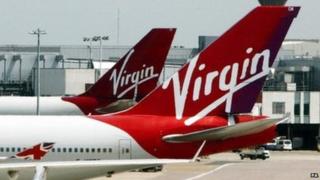 Virgin Atlantic has said it will introduce more flights between Glasgow Airport and Orlando, Florida, in 2015.
An additional 3,500 departure seats will be added to the route to meet high demand between June and October.
Eight more return flights, all on Sundays, will complement the existing service on Fridays and Saturdays.
The airline announced earlier this year that it would be adding a new service from Glasgow to Las Vegas in September and October 2015.
Glasgow Airport commercial director Francois Bourienne said: "It demonstrates the popularity of the Orlando service which has grown every year since it launched at Glasgow Airport in 2007."
Virgin Atlantic, founded 30 years ago by entrepreneur Sir Richard Branson, flies to 30 destinations across the world. It added 14,000 seats to the Glasgow Orlando service between 2013 and 2014.
Orlando in Florida is one of the USA's most popular tourist destinations.