Scots scientist 'laid first meridian line' in St Andrews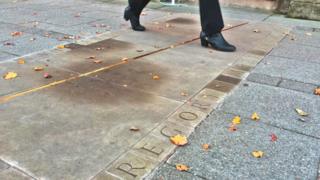 A Scottish astronomer and scientist is thought to have laid the first meridian line, arguably making St Andrews "the place where time began".
James Gregory laid the line across his lab in 1673, nearly 200 years before the Greenwich meridian was established.
Greenwich became the Prime Meridian in 1884, mainly because many already depended on it.
A memorial has now been unveiled in St Andrews in recognition of Gregory's work.
The Greenwich meridian, which separates the eastern and western hemispheres, has been the reference line for Greenwich Mean Time (GMT), since the late 19th Century, when railway and communications developments meant that a standard time frame was created.
Previously, there were 20 prime meridians in Europe alone. Greenwich was chosen because most of the world's shipping industry already used it, and the USA had chosen it as the basis for its national rail system.
'St Andrews Mean Time'
Without the Greenwich Prime Meridian, the international 24-hour clock would not exist.
James Gregory's Scottish meridian runs several degrees west of the Greenwich meridian - representing a difference of about 12 minutes.
The memorial to Gregory's work - a plaque and a solid brass line bisecting the pavement in South Street, following the line of his meridian - was unveiled at the site of Gregory's lab in St Andrews University's King James Library this week.
Dr John Amson, honorary senior lecturer in mathematics at St Andrews University, described Gregory's 2.4km meridian line as the "first ever" such long and accurate one in the world.
"What might have happened if Gregory had not died so young, we can never know. The world could today be running on STAMT (St Andrews Mean Time) and not GMT," he said.
Gregory's meridian line would also place Aberdeen and London in the eastern hemisphere, rather than the western hemisphere.
Gregory, who in 1668 became the first regius professor of mathematics and was elected a fellow of the Royal Society, was one of the three founders of calculus, inventor of the Gregorian Telescope and discoverer of the principles of diffraction gratings.