Health advice as 'norovirus season' under way in Scotland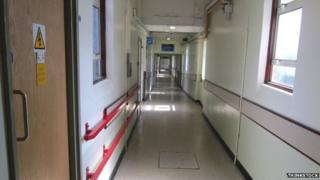 Health experts are reporting an increase in the number of norovirus cases across Scotland.
Health Protection Scotland (HPS) confirmed that the illness has already caused the closure of seven wards in six hospitals across Scotland.
Commonly known as the winter vomiting bug, symptoms include diarrhoea and vomiting.
Anyone showing signs of the illness are being warned to stay at home for 48 hours after symptoms have stopped.
Key facts
Norovirus occurs all year round, particularly every winter, in the community, and is unrelated to hospital cleanliness.
There is no vaccine.
The virus continually changes and people don't develop lasting immunity, so you can catch it more than once in a season.
Noroviruses can survive for days on any surface - including exposed food and wrapped food items.
Infection control specialists say it is essential that people displaying symptoms avoid contact with others, to prevent passing on of the infectious virus.
Norovirus is usually harmless, causing mild gastrointestinal symptoms such as vomiting and/or diarrhoea, but can be more serious among the elderly and people who are already ill.
Dr Evonne Curran, infection control nurse consultant at HPS, said: "Norovirus is a highly infectious virus that causes outbreaks in the community, healthcare and care settings every year.
"This is about the time of year when norovirus season usually starts. Letting everyone know that norovirus season has started enables preparedness plans to be put in to action. "
What to do if you've got it
There is no specific cure for norovirus - it just needs to run its course (usually 2-3 days).
To help ease your symptoms and stop the virus spreading:
Stay at home until at least 48 hours after your symptoms have stopped.
Keep your hands clean.
Drink plenty of liquid, water is best. This will replace the fluids lost from vomiting and diarrhoea.
Eat foods that are easy to digest.
Dr Curran said health professionals across Scotland were working to minimise the likelihood of outbreaks arising, but said there was also a role for the public to play.
She added: "As norovirus is so infectious, it is important that everyone plays their part in reducing outbreak risks. To do this, hospitals may suspend access to particular wards to protect patients, staff and visitors from norovirus.
"With the public's help, we can limit the impact of any norovirus outbreaks that do occur and minimise disruption to healthcare services."