Wildlife crime suspects could lose trapping licences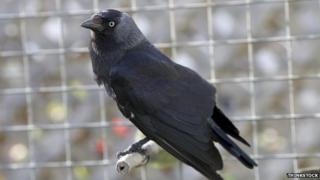 Landowners and gamekeepers suspected of the illegal persecution of birds of prey are to face new sanctions.
In future, they could lose licences which enable them to shoot or trap other species such as crows or pigeons.
Licences are currently issued to land managers who wish to control birds deemed harmful to livestock or crops.
Scottish Natural Heritage (SNH) said such licences would no longer apply where police showed evidence of wildlife crime.
Decisions to withhold licences would be based on a civil, rather than criminal, standard of proof.
Scottish Land and Estates, which represents landowners across Scotland, said a large proportion of these types of wildlife crime were carried out by people for whom licences are not applicable.
The organisation said it would "take time" to see how the new sanctions work in practice.
'Wall of silence'
Environment Minister Paul Wheelhouse described the move as a "powerful new weapon" in the fight against raptor persecution.
He said: "The illegal persecution of raptors is totally unacceptable and barbaric given typically it is associated with great suffering on the part of the birds when they are illegally killed.
"It is too often the case that there is clear evidence that a crime has been committed, but the perpetrator is able to hide behind a wall of silence among those who really should be cooperating with the police.
"That is why I asked SNH to consider how better use can be made of general licenses, which, rather than a 'right' are a privilege that can and should be withdrawn where there is evidence of illegal activity taking place."
Earlier this year more than 20 birds of prey were found dead at various locations in Ross-shire.
Tests confirmed that many of the red kites and buzzards had been poisoned.
Criminal investigation
Ian Ross, SNH's chairman, said: "We're committed to taking action whenever there is evidence of wildlife crime, and we believe this new measure will make it much tougher for those committing offences.
"Because of the remote locations where most wildlife crime takes place, it's often difficult to prove. So we need every tool we can to fight against those who persecute raptors in Scotland."
Douglas McAdam, chief executive of Scottish Land and Estates, said: "Overall, we support the objective of reducing the already small number of crimes against wild birds but it is important to note that a large proportion of such incidents will be caused by people for whom general licences are not applicable.
"There were a number of concerns we raised during Scottish Natural Heritage's consultation, particularly in relation to the appeals process. We are pleased that these have been taken account of in the announcement and the system of giving landowners time to respond to a notification is welcome."
He added: "There does, however, remain a need to ensure that evidence presented by police is sufficiently robust and the mechanism by which this is handled is seen to be fair and transparent.
"There also remains an issue that this licensing process could, for example, be seen to cloud a concurrent criminal investigation by police into the same matter."