Scottish businesses threatened by organised crime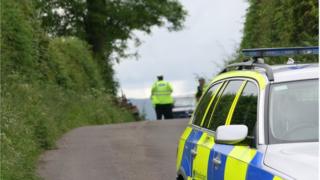 Scotland's Serious Organised Crime Task Force has set out plans to prevent businesses being targeted by criminals.
As part of its background work, the task force has identified the businesses most likely to be affected.
The most likely targets include licensed premises, taxi companies and the building trade.
A senior police officer has said their efforts, including £67m denied to the gangs, will help "ensure that serious organised crime gangs cannot flourish".
The types of business most likely to face criminal threat, as identified by the task force, were:
vehicle industry
licensed premises
catering
property development and management
retail
health and beauty
taxi companies
building trade
security industry
environmental (waste) companies
Police Scotland said organised crime had been prevented from obtaining or buying property which could have been used to launder criminal profits exceeding £8m in the west region.
In the east of the country, gangs were deprived of the chance to secure a business turnover of more than £10m by infiltrating aspects of the financial industry.
The force has issued maps showing the breakdown by police region over the period from 1 April 2013 to 30 September this year, and from April to September this year.
Deputy Chief Constable Iain Livingstone said: "Because of our sophisticated intelligence we now know more than ever before about how serious organised crime groups operate. We know the kind of businesses they target and we know how they do it.
"We are working more closely than ever before with local authorities to ensure we protect legitimate firms by ensuring those with links to crime are denied access to public sector contracts.
"By choking off their funding we can ensure that serious organised crime gangs cannot flourish in Scotland's economy."
---
Dirty money
by Reevel Alderson, BBC Scotland home affairs correspondent
Prosecutors say the figure of £67m is the amount they have "denied" organised crime groups in the first six months of 2014.
But what do they mean by this?
The Crown Office has a specialist team, working with police intelligence to target crime gangs.
They do this by obtaining from a sheriff a Production Order or a search warrant which allows them to seize financial documents.
After analysis, if irregularities are found, assets can be confiscated or the business closed down.
Profits it would have made are calculated as cash denied to the gang.
One business which spent £250,000 on start up was closed when it was discovered dirty money was used to set it up.
Police intelligence is also used to alert local authorities and legitimate companies about trading partners.
One council cancelled a schools bus contract worth £3m when it was revealed the tendering firm had links to organised crime.
---
The Serious Organised Crime Task Force was set up by the Scottish government.
Justice Secretary Kenny MacAskill said: "There has been a huge amount of work done to analyse the businesses most vulnerable to organised crime in Scotland.
"Our partners, including agencies such as the Scottish Business Resilience Centre, are using vital intelligence methods combined with the full force of their powers to hunt down those who would seek to target legitimate businesses and exploit them.
"The Serious Organised Crime Taskforce plays a crucial role in educating businesses on the risk of organised crime and raising awareness on how they can best protect themselves against it."