Son for Chris Hoy and his wife Sarra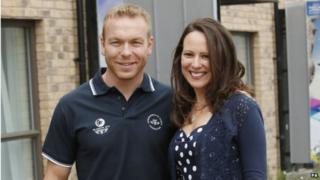 Sir Chris Hoy has announced that he and his wife Sarra have a new son, their first child.
Callum David Robert Hoy was born at just 29 weeks.
The cycling champion and Olympic gold medallist announced his retirement from competitive sport last year.
Sir Chris tweeted: "Amazed, delighted & a little shocked to announce the birth of our beautiful baby son, Callum David Robert Hoy! Born at 29weeks, today at 2pm."
A few minutes later, he added: "Although v. early days for wee Callum, he's doing well as is Sarra. Huge thanks to incredible medical staff."
The former cyclist was flooded with messages congratulating him and his family.
Fellow Olympic gold-medallist Rebecca Adlington tweeted: "congratulations to you both! Hope Sarra is going well as well as baby Callum! Xx"
Sir Chris thanked everyone for their support and said: "Wow! Thanks for the huge load of messages coming in, I'm reading as many of them as I can to Sarra and Callum."
He previously spoke of his excitement about becoming a father for the first time.
"I think maybe I'm just blindly optimistic that it's going to be great fun and dead easy. I'm just very excited," he said.
"It's a very exciting period of my life and for me and Sarra, hopefully a wonderful experience."