Satellite firm Clyde Space set for expansion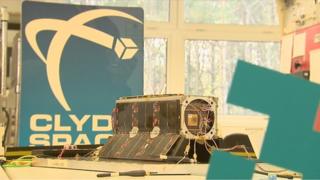 The company which designed and built Scotland's first satellite is set to expand after securing two orders worth a total of more than £2m.
Glasgow-based Clyde Space will provide power systems for Luxembourg-based space company Lux Space in a deal valued at £1.2m.
The systems will be used in two satellites Lux is building for the European Space Agency.
The second deal, worth nearly £1m, involves US-based Spire Inc.
Clyde Space, which produces small satellite, nanosatellite and CubeSat systems, built the UKube-1 which was launched into space from Kazakhstan in July.
It is also currently working on what it claims is the most advanced CubeSat ever built for the Belgian Institute for Space Aeronomy.
Clyde Space founder and chief executive Craig Clark said: "Our first satellite UKube-1 allowed us not only to prove a bunch of new technologies in space, it also puts us on the map as a proven spacecraft provider not just in the UK, but globally.
"We're building on this experience and success to deliver even more capable spacecraft."
Headquarters move
Clyde Space is set to move its headquarters from the West of Scotland Science Park to larger premises in Glasgow in order to meet increased demand for its products.
The move to the Skypark building in Glasgow at the end of next month will increase the firm's clean room capacity - the controlled environment where its hi-tech products are manufactured - and laboratory space.
The company said the new base would also allow it to increase the number of staff from its current level of 40.
Mr Clark said: "We're growing pretty fast just now and have literally run out of space for new recruits, so our move to our new premises can't come soon enough.
"Our office move is not only desk space, we are significantly expanding our manufacturing facility to give us more room for assembly and test as we prepare ourselves for greater volumes of product sales."
Turnover for the last financial year increased by 100% to £2m, while the company's profits were also "significantly up", according to Mr Clark.
He added: "We've had our best year to date and we expect next year's results to show a further step change in revenue and profit."
Clyde Space is backed by private equity company Coralinn, the investment vehicle of Scottish entrepreneur Hugh Stewart, and Nevis Capital.