Scottish Labour leadership: And then there were three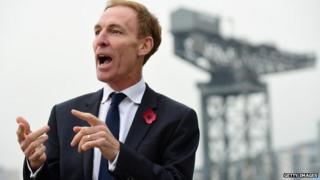 Jim Murphy has, as expected, entered the contest to replace Johann Lamont as leader of Scottish Labour.
In doing so, he does - and does not - accept the parameters she laid down for the future of the party in Scotland.
For example, he does not accept her description of Scottish Labour as a "branch office" in London's eyes.
Yet he argues for more autonomy, for the completion of the review he undertook with Sarah Boyack - and he stresses that he will "hire and fire" without interference from elsewhere.
By which, of course, he means Team Miliband. The team he will be leaving should he be elected as leader in Scotland.
Questions. Can Mr Murphy win the party election? Yes.
Will he win universal backing? Of course not.
His standpoint exasperates some on the left and some in the trades unions.
However, remember the voting system. It may not be exactly a paragon of democracy.
Some have multiple votes (for example: MSP, party member, union member, affiliated society member). Some will be able to vote in the union section despite supporting other parties, chiefly the SNP.
But there is not, as such, a straightforward union bloc vote. There will be membership ballots with votes apportioned among candidates.
Equally, though, there could be guiding statements from union leaders. Those may be influential, although in no way binding.
Westminster to Holyrood?
Secondly, how does Mr Murphy solve the problem that he is not an MSP?
His answer: one election at a time. In short, win the party leadership, then deal with it.
I believe he would want early access to Holyrood - before the 2016 election. Perhaps before - or at the same time as - the 2015 UK general election in order to obviate the problem of standing as an MP when, as he concedes, his Westminster career is drawing to a close.
Thirdly, could he be a winner for Scottish Labour?
The voters, of course, will determine that. A new poll for STV suggests that the challenge may be substantial.
Fourthly, what will Scottish Labour do at Holyrood in the interim?
Jackie Baillie performed rather effectively during questions to the first minister today, seizing a topic and pursuing it.
Would there have to be a deputy who is an MSP - at least until Mr Murphy, if he wins, can secure a Holyrood seat?
That issue is being pondered - although it may seem a little rough on the elected deputy, Anas Sarwar MP.
It depends, I suppose, upon how long the problem persisted.
And, with that, for the Labour faithful (or hopeful or fretful), it is off to the party's Gala Dinner in Glasgow.
Isn't life grand?