Scottish Labour treads warily ahead of leadership contest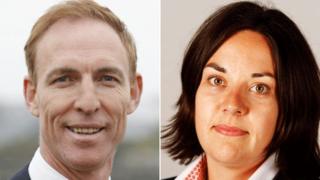 Speak to Labour folk - as I have been doing - and you get the strong impression that they are all treading warily.
Understandably, after a period of quite remarkable turmoil, they seem anxious and apprehensive.
It is a little like a family gathering on New Year's Day after there has been a furious row at the Hogmanay party.
Your aunt won't quite catch your eye: she knows she said too much. And your young cousin? Well, that was just out of order.
Shuffling embarrassment, downward glances, muttered apologies. Tea, anyone? What's on the telly?
And the worries. Will the row clear the air? Will it prove cathartic? Or is this just a pause before Round Two?
Today's final nominations are instructive.
Both Jim Murphy MP (candidate for leader) and Kezia Dugdale MSP (candidate for deputy) have achieved their private ambitions of securing a majority among parliamentarians - one third of the intricate electoral college which will determine the outcome.
Substantive issues
But the other contenders are firmly in the race: Neil Findlay and Sarah Boyack, both MSPs, seeking to be leader; and Katy Clark MP aiming to deputise.
They have secured sufficient backing from the combined total of parliamentarians: Holyrood, Westminster and Europe.
I do not expect that the contest itself will be particularly bloody. That anxiety factor again. Polls suggesting that the SNP has a huge lead in Westminster voting intention tend to concentrate the mind somewhat.
However, I do expect that the party may finally address the substantive issues which underlie this contest.
Each is salient although perhaps of varying interest to the two electorates which matter: the voters, party and affiliates, who will determine this contest; and the people of Scotland who palpably need convincing that Labour is worth their support.
One issue is the governance of the party in Scotland. Does the elected Scottish Labour leader really lead Scottish Labour? All of it?
The MSPs, yes. But the MPs? The party machine? This may seem arcane but it was, remember, the issue which finally persuaded Johann Lamont to quit, complaining that she had been bypassed in a staffing matter.
It matters because it indicates the extent to which Labour, the party which legislated for devolution, has itself devolved.
When Johann Lamont won the leadership, she said Labour must show it had changed. Her phrasing, almost word for word, is still permeating the search for her successor.
A related issue is the extent to which the leader is or is not in thrall to the Labour group of MPs. Yes, the leader must lead - but it is understandable that elected Westminster Parliamentarians want a substantial say in policy and strategy. They are numerous. They merit attention.
A balance must be struck. The MPs must be given their place. In return, they must end the impression that some of them still regard Holyrood as a "pretendy Parliament", to borrow a phrase.
Thirdly, policy and pitch. Just what does Labour stand for? To say "social justice" is pitifully insufficient.
Will anything now emerge from the commission on public spending priorities set up by Ms Lamont? Or is that, in effect, overtaken by events? If not that, then what is the offer?
This is as much about standpoint and posture as detailed policy.
In 2011, the SNP were forward looking while Labour's launch featured, among much else, continued rhetoric about the proclaimed evils of Thatcherism, all delivered on the rusting, post-industrial banks of the Clyde.
Can Labour sound modern and dynamic, with a pitch in keeping with the contemporary aspirations of the people of Scotland?
Can they convince their potential voters that their alliance with the Conservatives in Better Together was strictly temporary and for a purpose?
Fourthly, personnel. Can Scottish Labour, collectively, look like leaders?
When folk look at and listen to their key Holyrood figures, do they instinctively think "Cabinet in waiting"? Questions, questions.