World's End murders: Sinclair convicted after change in double jeopardy rule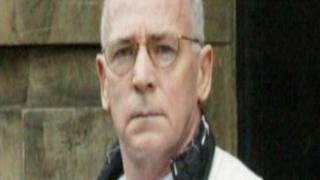 The trial of Angus Sinclair was the first to be held in Scotland following the ending of the centuries-old double jeopardy rule. This had prevented a person from being brought before the courts for a second time on the same charge after being acquitted.
Double jeopardy is a widely-held legal principal, and forms part of the European Convention on Human Rights (ECHR).
But a number of countries allow some exceptions to this general rule.
Scotland joined this group in 2011 when MSPs passed the Double Jeopardy (Scotland) Act - legislation which was first used in the World's End murder case.
Angus Sinclair had been tried in 2007 for the murder and rape of Helen Scott and Christine Eadie but was acquitted after the judge ruled there was no case to answer.
---
World's End guilty verdict
---
The prosecutor at the High Court in Edinburgh had failed to put vital forensic evidence before the jury.
England and Wales had ended double jeopardy in exceptional circumstances in 2003, and in Northern Ireland the law was changed in 2005.
As with the other home nations, Scotland sets significant tests for the prosecution to overcome before an accused person who has been acquitted can be tried for the second time.
These include the discovery of new evidence which was not available to the original trial.
Only serious cases such as murder and rape are subject to the new provisions.
As the Scottish Act was passed, Justice Secretary Kenny MacAskill said it would mean prosecutors no longer had their hands tied as they tried to ensure there was no escape from justice.
He said: "The principle of double jeopardy dates back over 800 years but we now live in a very different world.
"The law needed to be modernised to ensure that it is fit for the 21st century and I am delighted that MSPs from all sides have voted in favour of these important changes."
The new law allowed old cases, dating from before 2011, to be subject to the changes.
---
Exceptions to double jeopardy rule
Acquittal tainted by attempt to pervert the course of justice
Accused, after acquittal, admits guilt
New evidence not available to the original trial.
---
The Law Society of Scotland had strongly resisted government attempts to make the changes retrospective.
But the former judge Lord McCluskey argued it would improve Scots law.
Writing shortly after Sinclair's 2007 acquittal, he said: "'Hard cases make bad law,' so they say.
"But the World's End case could make the law better."
Helen Scott's father, Morain, has described the double jeopardy law as her "legacy."
Scotland's senior prosecutor, Lord Advocate Frank Mulholland QC and his predecessor Dame Elish Angiolini pushed for the new law in the aftermath of Sinclair's 2007 acquittal.
Mr Mulholland said: "There's double jeopardy legislation in Ireland, some of the states in Australia, so I really think it was a modernisation of Scots Law.
"But the case against Angus Sinclair in 2007 was certainly taken into account by the parliamentarians when they passed this legislation."
But retired detective superintendent Allan Jones, who was involved in the World's End case for 35 years, was more forthright.
"It's righted a wrong," he said.
"In 2007 justice wasn't done. Double jeopardy gave us the opportunity to revisit the case using new evidence and again do what should have been done at the time, and find these people guilty of that horrific crime back in 1977."
Reacting to Sinclair's conviction, Justice Secretary Kenny MacAskill said: "This case came to court after the Scottish government brought forward the Double Jeopardy (Scotland) Act, which was unanimously passed by parliament.
"Double jeopardy is a centuries old principle of Scots law which prevents a person being tried twice for the same offence, but in this day and age, there should be no escape from justice.
"We have acted in the interests of Scottish justice, victims and their families and we hope this news brings some comfort to the families of the victims of these terrible crimes."
Another case brought under the new double jeopardy law came before the High Court in Edinburgh as the World's End trial was nearing its conclusion.
It followed the acquittals in 1999 and 2000 of three men accused of the murder of Indian restaurant waiter Surjit Singh Chhokar.
He was killed in the Lanarkshire town of Overtown in 1998.
BBC Scotland Investigates: The World's End Murderer will be shown on BBC Two Scotland at 22:30