Scots hospital food nutrition may be legally enforced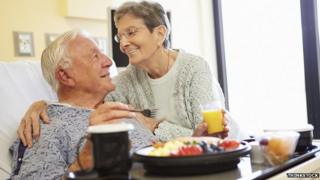 Scotland could become the first country in the UK to legally oblige hospitals to serve nutritional meals to patients.
New guidelines on NHS catering have been unveiled by Health Secretary Alex Neil.
There will now be a consultation on whether the new measures should be legally binding.
Extra funding will be made available to help health boards improve food standards, and more inspections of hospital meals will be carried out.
Mr Neil said Scottish hospitals had made "great progress" in the quality of their food in recent years, but acknowledged there was still "more that can be done" to drive up standards.
The measures announced by Mr Neil were:
Improved nutrition and catering standards introduced in the new year, supported by increased inspections of hospital meals.
A consultation to determine whether nutritional standards in hospitals should be placed on a statutory footing.
A further £300,000 will be invested to help boards to improve nutritional care.
Full details of the new guidelines are due to be published in January.
The health secretary said: "Scotland has led the way in the UK when it comes to developing and monitoring standards for nutritional care and catering in hospitals.
"We already have rigorous standards in place, and clear guidance about how these standards can be met. Catering teams, dieticians, specialist consultants and nursing staff are doing great work to ensure that patients are getting nutritious and balanced diets in hospital.
"We have made great progress, but I recognise that there is always more that can be done to drive up standards.
"We have been working on these new guidelines for some time as part of an ongoing review of nutritional standards."
He added: "This is part of a package of measures that will help to ensure that hospital food continues to improve, that NHS boards have the appropriate amount of support and advice that they need to deliver these improvements and that we have an even stronger inspection process."
Unhealthy foods
BMA Scotland welcomed the new guidelines and said hospitals had a responsibility to ensure food served to patients was "both healthy and palatable".
The body also called for further action on vending machines and the sale of unhealthy drinks and snacks in hospitals.
Dr Lewis Morrison, a member of the BMA's Scottish Council, said: "Patients can be found enjoying crisps, sweets and unhealthy fizzy drinks all sold to them from trolleys on the wards or in concessions on the hospital premises. Hospital corridors are littered with vending machines selling high-sugar, high-fat food and drink to patients, visitors and staff.
"These unhealthy foods are supplementing the poor quality of hospital food.
"While getting the menu right is important, it is by no means the only challenge. We also need to ensure that patients - particularly the elderly - get the help they need to eat their meals."
The Scottish Conservatives, Lib Dems and Greens have also welcomed the new measures to improve hospital meals.
The Tories said they were in favour of more unannounced inspections of catering facilities.
But the Lib Dems accused the SNP of "playing catch up" on the issue and said the new guidelines were a victory for patients and campaigners.
The Green Party called for a focus on using more local and fresh ingredients in NHS menus.
Earlier this year the Scottish government launched a competition aimed at improving catering in the health service.
Chefs and catering teams had to come up with a menu which was locally sourced and met nutritional guidelines, with the winning entry then rolled out across the whole of NHS Scotland.
Last year Scotland's biggest health board, NHS Greater Glasgow and Clyde, admitted that it spent an average of just over £4 a day per patient. Its catering budget had been cut by almost £1m in the previous year.