Hooligan warning for Scotland-England game at Celtic Park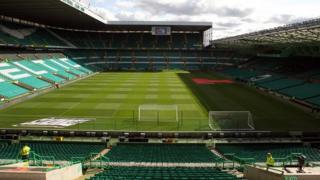 English football hooligans are planning to travel to Glasgow for the friendly international against Scotland, according to police intelligence.
Senior officers said they have been working with the UK's national football policing unit to prevent any trouble.
About 5,000 England supporters are due to attend the match at Celtic Park on Tuesday night.
Justice Secretary Kenny MacAskill said anyone intent on causing violence would be dealt with by the police.
Ch Supt Andy Bates, event commander for the international match, said officers from the football policing unit were already in Glasgow and known troublemakers were being monitored.
"There may well be some troublemakers travelling from England," he said.
"We've been working very closely with the UK football policing unit and colleagues from across Police Scotland to monitor the activities of these groups that might want to cause trouble.
"They are a small minority."
He added: "I am very confident that we will identify the troublemakers and we'll disrupt any activities that they might want to engage in."
The justice secretary told BBC Scotland: "I think the vast majority of fans who are coming from south of the border are coming to enjoy the game. They will enjoy the city of Glasgow and we look forward to welcoming them.
"Any of them who come up predisposed to cause football violence - and we have a minority in Scotland who sometimes do that themselves - they will be dealt with by the police."
The is the first time Scotland and England have met north of the border since 1999.
However, police said that their regular experience with Old Firm games, and the Commonwealth Games in Glasgow during the summer, meant they should be able to ensure trouble is kept to a minimum.
Meanwhile, officers have also urged fans to arrive early for the match at Celtic Park.
They are keen avoid a repeat of turnstiles problems which resulted in supporters being delayed in their entry to Friday night's European qualifier match against Ireland.