Sturgeon: Harnessing the power of London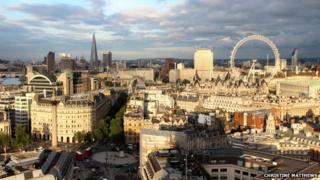 When you've just become first minister of Scotland, everything you do is likely to be weighed for significance.
Nicola Sturgeon's first speeches were, significantly, to the people she needs to keep on side; MSPs, the vastly enlarged Scottish National Party, and Scotland's business community.
The key messages; governing for all of Scotland, "democracy rocks", and business has "nothing to fear".
(On that basis, the FM's itinerary can be expected to include another speech to address Scots outside the central belt.)
"Race to the bottom"
As I've written before, the FM had to establish her credentials with Scottish business.
Her politics are perceived as being to the left of Alex Salmond. Her ministerial portfolio hasn't involved close work with business leaders. And there are bridges to be mended following the independence referendum.
So previewed through an interview with the Financial Times, Ms Sturgeon was keen to reassure business that she wants to work with it. She observed that her priority of tackling inequality requires the resources with which to do so, and that they come from wealth creation.
Having secured the services of Crawford Beveridge for the continuation of the Council of Economic Advisers which he has chaired for Alex Salmond, she set it three tasks; competitiveness, inequality and London.
Significant within these subjects was her observation that competitiveness cannot be secured by "a race to the bottom". That's precisely the phrase used by "No" campaigners about the SNP's corporation tax-cutting plans.
As the nationalist economist George Kerevan has argued, cutting tax on business no longer looks like it can deliver what it did in Ireland's Celtic Tiger days. Instead, it may merely deliver lower tax receipts.
And that's going to become an interesting debate to watch in Northern Ireland, to which we're told the Chancellor is about to offer corporation tax powers. There's cross-party agreement at Stormont that it would be desirable to compete with their southern neighbours. Dublin offers a headline business tax rate at just over half that of the UK's, though the gap has been closing.
The Treasury's offer is expected to come with the prospect of a substantial clawback and difficult decisions about public spending, according to Jim Campbell, my colleague at BBC Northern Ireland.
Stagnated
Ms Sturgeon's pitch was that equality and economic growth can, and should, work alongside one another.
But if the Council of Economic Advisers is to tackle competitiveness, they will also have to look at Scotland's (and Britain's) productivity challenge, and the puzzling question of why it's stagnated.
As productivity improvements are often driven by efficiency and cost-cutting, there might be some tensions with the goals of fairness and equality.
It's the question of London, though discussed only briefly, that strikes me as the most interesting part of the new first minister's speech to business.
She takes the view that the strength of the London economy can be to the benefit of the rest of the UK, including Scotland. It spins out its spending power with huge centrifugal force, and its overheating pushes back office functions to the cheaper staff and office space of its hinterland.
To some, that's obvious. To diehard nationalists, it's hard to swallow. The rhetoric of the independence campaign was that a break from London rule would somehow free the Scottish economy from its malign influence.
As you would expect, Ms Sturgeon balanced the benign part of the London story with the malign. She argued that the magnetic power of London causes big problems, and not just for Scotland.
Career paths
It wasn't for her to spell it out, but those problems of London's magnetic power appear far greater for much of England than they do in Scotland. And they are getting more problematic as the economic recovery has taken such a geographically-lopsided shape.
Property prices are an obvious example, fuelled by London's appeal to the globally mobile rich, with capital in search of a safe haven.
Then there are graduates. Around half of Britain's graduates get their first job in the big city. Without national institutions, English regions don't offer the same opportunities for many private sector careers that the south-east does.
With national institutions, and strengths across finance, energy and universities, Scotland can.
Take the high road
The old pattern of a north-south divide has been broken, with Scotland doing better on many key indicators than parts of England outside the south-east.
The three main Westminster parties are talking regional policy more enthusiastically than they have since at least the 1960s.
George Osborne's autumn statement - in search of at least some good news - is being trailed with reports of goodies for the north of England, including research hubs and transport.
(One such project worth noting from a Scottish perspective is an upgrade of the A1 between Berwick and Newcastle - the most obvious demonstration that Scotland's transport has been better funded than north-east England. If pre-Autumn Statement reports are correct, this could make it possible to drive faster and more safely from Tyneside to take advantage of lower Air Passenger Duty at Scottish airports.)
Common interests
I digress. In Nicola Sturgeon's Glasgow speech, here was an SNP leader pointing out something that doesn't usually get much attention from nationalists - the common interests of Scotland and the regions of England outside the south-east.
Again, that could be stating the obvious. Or it could be that Nicola Sturgeon is seeking to play a role in the debate about devolution of power within England. She has clearly the most powerful voice outside Westminster politics and London.
Boris Johnson may disagree, but the Mayor of London would have to concede that his calls for more powers, including control of the metropolis's law courts, has been spearheaded by recent events in Scotland.
For decades, Welsh claims for more powers have tended to be made in Scotland's slipstream (though its case for a new funding formula is at odds with Holyrood).
The English regions are only now beginning to crank up their case for more powers. If they're successful, the all-England approach to a more federal UK would be diluted. And Ms Sturgeon may see that as being in Scotland's interests.