Living Wage 'key' for tackling health inequalities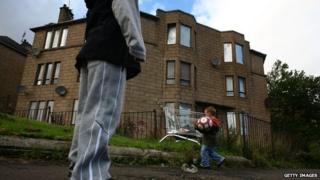 Changes to tax and benefit systems have more impact on health inequalities than changes to healthcare, new study found.
Researchers said the introduction of a Living Wage and benefit increases made more difference than schemes to help lose weight or stop smoking.
The study was carried out by the Scottish Public Health Observatory.
It also concluded an increase in active travel - such as cycling to work - had a "minimally positive effect" on population health.
Taxation on tobacco had a positive impact on health but made little difference to health inequalities, the study suggested.
The gap between the health of the most and least affluent sections of Scottish society has widened since the 1970s, and is larger in Scotland than most of the rest of Europe.
The Scot PHO report, called Informing investment to reduce health inequalities in Scotland, studied the impact of 11 policies over a 20-year period.
'Save lives'
Dr Gerry McCartney, head of the Public Health Observatory at NHS Health Scotland, said: "Reducing health inequalities has been identified as a priority issue for the Scottish government.
"Our results show that many interventions may improve population health, although they won't necessarily help to reduce health inequalities.
"Whilst regulatory and tax options may not seem to be directly health related, they will save lives, and ultimately save the NHS precious money and resources.
"Interventions that redistribute income, such as increasing the standard rate of income tax or implementation of a Living Wage are among the most effective interventions for reducing inequalities and improving health."
Jamie Hepburn, Minister for Sport, Health Improvement and Mental Health, added: "This government is clear that health inequalities cannot be solved with health solutions alone. They are rooted in poverty and income inequality.
"We're absolutely committed to increasing the number of people receiving the Living Wage. This report concludes that the Living Wage can play a significant part in reducing health inequalities."
The Scottish Public Health Observatory is a partnership between NHS Health Scotland, ISD Scotland, the Glasgow Centre for Population Health, National Records of Scotland and Health Protection Scotland.