Jim Murphy unveils new front bench team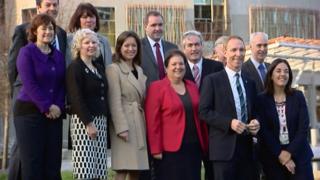 Scottish Labour leader Jim Murphy has announced his new front bench team, with jobs for fellow leadership contenders Neil Findlay and Sarah Boyack.
Mr Findlay is handed the fair work, skills and training brief and Sarah Boyack takes on rural affairs.
Jackie Baillie will shadow John Swinney's finance role.
Jenny Marra is promoted to health and former leader Iain Gray moves to education.
Hugh Henry takes the justice role and Mary Fee is promoted to infrastructure, investment and cities.
The full front bench team is:
Leader - Jim Murphy
Deputy Leader - Kezia Dugdale
Finance, Constitution and Economy - Jackie Baillie
Infrastructure, Investment and Cities - Mary Fee
Fair Work, Skills and Training - Neil Findlay
Education and Lifelong Learning - Iain Gray
Health, Wellbeing and Sport - Jenny Marra
Social Justice, Communities and Pensioners' Rights - Ken Macintosh
Justice - Hugh Henry
Rural Affairs, Food and Environment - Sarah Boyack
Culture, Europe and External Affairs - Claire Baker
Parliamentary Business Manager - James Kelly
Chief Whip - Neil Bibby
Enterprise - Graeme Pearson
Jim Murphy told BBC Scotland: "Every previous member of the shadow cabinet has been moved. It's a fresh start, a new team and I think this is a combination of real talent, a combination of real experience and some fresh faces and I'm confident this can be a team that can take Scotland forward.
'Real passion'
"There are people there who campaigned against me, both of the candidates who also stood for leader are there, people who voted for me first in the ballot, second in the ballot, third in the ballot and even someone who didn't vote for anyone in the ballot.
"So it's a team of all our talents across the spectrum of the Labour party and I'm really delighted today."
Yesterday, Mr Murphy said he planned to rewrite his party's constitution to stress that Labour will run its own affairs in Scotland.
The new constitution will be voted on by party members in the spring.
Mr Murphy currently holds a seat in Westminster and revealed he wanted to become an MSP and Labour's candidate for first minister by 2016.
He said: "I will make it clear in the new year how that will happen.
"I want to be in the Scottish parliament then and I'd like to be in there before that if that is at all possible.
"I think today's team has a real passion and a real commitment to Scotland and the real labour values."
"Together we want to make Scotland not just the fairest country in the UK but the fairest country in the world," he added.
Mr Murphy won his Scottish leadership contest with 55.77% of the vote under the party's electoral college system, in which Scottish Labour MPs, MEPs and MSPs, party members and unions and affiliated organisations each get a say in the outcome.