Animal bite figures feature dogs, rats and crocodile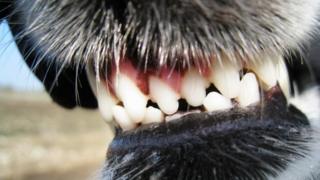 At least 10 people a day are admitted to hospital in Scotland on average after being bitten or attacked by an animal, figures have revealed.
Almost three quarters of incidents over the last three years involved dogs.
Rats, spiders and a reptile also featured in cases and one person was taken to hospital after an altercation with "a crocodile or alligator".
The Scottish Conservatives obtained the statistics through Freedom of Information requests.
The party said they highlighted the problem of dangerous dogs being bred across Scotland.
'Freak occurrence'
According to figures - gathered from Scotland's local health boards - there were 10,953 animal attacks that led to victims needing hospital treatment, between 2011 and 2014.
A total of 7,731 cases involved dogs, with the Glasgow area seeing the highest number of incidents.
There were also 41 cases in the NHS Greater Glasgow and Clyde area which involved people seeking hospital treatment after being bitten by a rat.
In the NHS Grampian area one person was taken to hospital in 2013 after an altercation with "a crocodile or alligator".
In the Highlands, two people were bitten by venomous spiders and in the Ayrshire and Arran a man was treated after being "bitten or crushed by a reptile".
The Tories raised the issue of dangerous dogs earlier this year when they highlighted figures showing a rise in the number of local authority investigations into such incidents.
Alex Johnstone MSP said: "Of course some of these incidents set out will have been the result of an accident or some kind of freak occurrence.
"However, the sheer scale of hospitalisations after a dog bite points to a much wider problem.
"If we don't get on top of the number of farms breeding these animals illegally, and the increase in people owning them who clearly aren't up to the job, this problem is just going to get worse."
Responsible ownership
He added: "There will be other statistics within this that also cause concern, not least those people being hospitalised after an encounter with a rat.
"It's important the Scottish government takes serious action on dangerous dogs, otherwise it will risk it becoming a genuine safety fear across the country."
Last year, the Scottish government launched a consultation on responsible dog ownership with proposed measures aimed at strengthening the law on things like micro-chipping.
A spokesman said: "It is essential that dog owners fully appreciate their responsibilities for the welfare of their dog and the safety of themselves, their families and the general public, and there are long-standing laws in place to help protect members of the public from dangerous dogs.
"We are pleased that local authorities are making increased use of their powers under the Control of Dogs (Scotland) Act to impose dog control notices on owners that allow their dogs to be out of control.
"Recent figures show the number of dog control notices imposed in 2013/14 was 244, which is the highest annual figure since the Act came into force in February 2011."