Jim Murphy backs alcohol at football stadiums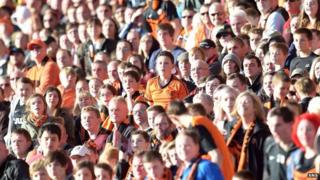 The new leader of Scottish Labour has called for football fans to be allowed to drink alcohol in Scottish stadiums.
Jim Murphy acknowledged that Scotland has "an unhealthy relationship alcohol".
But he told BBC Radio Scotland that football had moved on from the violence of the 1980s.
And he questioned why people in corporate hospitality boxes could drink while ordinary fans could not.
Justice Secretary Michael Matheson said earlier this month that he has "no plans to reintroduce alcohol to football stadiums".
Mr Matheson added: "If there was any consideration of looking at this matter there would have to be a consultation with the police, other enforcement bodies and local authorities to consider what the implications were."
'Class mentality'
Police Scotland has also said it will continue to oppose any relaxation of the alcohol ban, which has been in place since a riot at the Scottish Cup final between Rangers and Celtic in 1980, unless a nationwide public consultation proves its benefits.
But a relaxation of the ban is supported by many Scottish clubs, who see it as a way of generating much needed revenue.
And SFA chief executive Stewart Regan has said the sale of alcohol at football grounds has been on the agenda of its Professional Game Board for several months.
Speaking to the Off the Ball programme on Saturday afternoon, Mr Murphy said he was in favour of trialling the return of alcohol to stadiums in order to "improve the experience of the supporter".
The Celtic season ticket holder added: "I don't drink but I'm up for it. I think it is sensible.
"I think that our sport in Scotland is kind of stuck in a class mentality that says if you're middle-class and want to go to rugby you can drink, and if you're middle-class and want to go to football you can drink.
"I don't see why, in moderation, men and women who want to go to football can't have a few drinks. It happens in parts of England and different parts of Europe.
"But I do think, obviously, the game had to change after the Old Firm riot at Hampden (in 1980) and all that sort of stuff, but we are a long way away from that, so I think we should at least do it on a trial basis."