City Link: RMT union boss to tell MPs of his anger over firm's collapse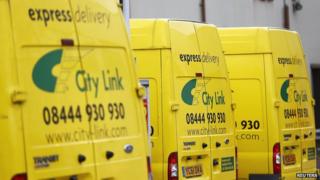 A union leader is expected to tell MPs at Westminster how his anger is increasing over the collapse of UK delivery firm City Link.
Mick Cash, general secretary of the Rail, Maritime and Transport (RMT) union, will face questions from Scottish Affairs Committee members.
The politicians are to discuss City Link's impending closure announced on Christmas Day.
The firm employs 2,727 people in the UK, with 165 in Scotland.
Elsewhere at Westminster, the Business, Innovation and Skills select committee is due to press UK Business Secretary Vince Cable to investigate what happened at City Link, which had suffered "substantial losses" over a number of years.
Ahead of the Scottish Affairs committee session, Mr Cash said: "It's been over a fortnight now since the announcement; I thought maybe my anger and bitterness would have died down a little bit, but if anything it's getting stronger."
He added: "I went down to London two weeks prior to the announcement where I met the management as there had been concerns raised that the company was having problems. They assured me that everything was ok."
On Monday, MPs on the committee met with workers and sub-contractors who lost out when the courier company called in the administrators.
Ian Davidson, chairman of the committee, said: "We've obviously been very concerned about what has happened to City Link workers - the way in which they have been dismissed, the shortage of notice, the fact that the notice was coming out on Christmas Eve and Christmas Day.
"There were rumours of the company closing beforehand but the employees were kept on working and given assurances, as were the sub-contractors, that everything was ok.
"What we'll try to do is identify what we believe is wrong, then we will get to the stage of identifying solutions. We will want to hear from the RMT at UK level what the overall pattern is."
| City Link employees | |
| --- | --- |
| Location | Total employees |
| Aberdeen | 19 |
| Ashford | 24 |
| Bangor | 16 |
| Basingstoke | 25 |
| Beckenham | 23 |
| Beckton | 32 |
| Belfast | 23 |
| Bicester | 28 |
| Birmingham | 70 |
| Bournemouth | 32 |
| Bristol | 50 |
| Cardiff | 44 |
| Carlisle | 28 |
| Chelmsford | 48 |
| Coventry | 404 |
| Cowes | 4 |
| Durham | 56 |
| Edinburgh | 22 |
| Edmonton | 36 |
| Epsom | 22 |
| Exeter | 41 |
| Gatwick | 42 |
| Glasgow | 75 |
| Glenrothes | 22 |
| Gloucester | 32 |
| Guildford | 24 |
| Hatfield | 116 |
| Heathrow | 132 |
| Leeds | 1 |
| Leeming | 34 |
| Leicester | 1 |
| Lincoln | 25 |
| London City | 19 |
| London West Central | 43 |
| Maidstone | 48 |
| Manchester | 67 |
| Milton Keynes | 91 |
| Morley | 74 |
| Motherwell | 27 |
| Newcastle | 45 |
| Newmarket | 1 |
| Northampton | 47 |
| Norwich | 44 |
| Nottingham | 48 |
| Peterborough | 63 |
| Plymouth | 58 |
| Preston | 52 |
| Reading | 2 |
| Rotherham | 34 |
| Scunthorpe | 28 |
| Shrewsbury | 38 |
| Southampton | 33 |
| Stafford | 40 |
| Swansea | 30 |
| Swindon | 73 |
| Warrington | 115 |
| West Bromwich | 56 |