Why the music of Hans Gal survives against the odds
Jewish composer Hans Gal fled Germany when the Nazis came to power and settled in Edinburgh after the war. He was hugely successful during his lifetime but his work has been little-performed in recent decades. But that is about to change.
For a composer who has apparently fallen out of fashion, it looks like being a busy year for Hans Gal.
The BBC Scottish Symphony Orchestra, who haven't performed his work in decades, will stage two concerts of his work this month, alongside talks about his life.
There'll be further concerts later in the year, including several in Germany, and one in Edinburgh, where he spent half his life.
On Monday his diary, which details his internment in a camp on the Isle of Man, will be published.
All of which is heartening to the Hans Gal Society, which exists to promote his music.
Banning his music
His grand daughter Tanya is involved in the day-to-day running of the society in Edinburgh.
She says: "It's hugely important, particularly to those who don't know his work.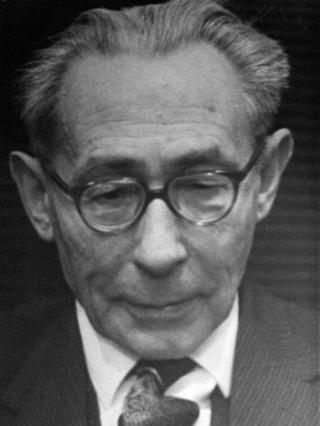 "It's strange because he was once so successful and circumstances pushed him out. From the Nazis banning his music, to the way it fell out of fashion in the 1960s."
Born in Vienna in 1890, Hans Gal was already an established composer when the Nazis rose to power.
His operas and concertos were much admired, his music the toast of Austria and Germany.
But as a Jewish composer, his music was banned.
The premiere of his fourth opera was cancelled and he was sacked as director of the Mainz Conservatory.
He and his family fled to Britain.
Despite being interned in an enemy camp in Liverpool, and then the Isle of Man, he continued to compose - and it is those works from the 1940s which the BBC SSO will focus on this month.
Cellist Raphael Wallfisch has long-championed his work, and it was he who persuaded the orchestra to stage the concerts, despite them not having performed his work for the best part of 30 years.
"There's no obvious reason," says Andrew Trinick, the orchestra's senior producer.
"He died in 1987 and sometimes a composer's work falls out of fashion after death. Here, we haven't played it for a number of years so why not now? It deserves to be heard."
Horrific circumstances
Hans Gal settled in Edinburgh in the 1940s, where he helped establish the Edinburgh International Festival. He also taught at the city's university and helped establish a number of musical ensembles.
"He was involved with so many people," says Tanya. "There are so many people with stories to tell about him."
Despite this, the society has had to lobby hard to reintroduce his music.
But this year, is an important one, with a number of concerts, CD releases and the diaries due in the next few months. For Tanya, and her family, it's important to remember his story as much as his music.
"He did continue to compose in the most difficult circumstances because I think he saw his creativity as something quite separate from the horrific circumstances he found himself in," she says.
"It was very special, very profound and I think it was also his salvation. He had that inner world to go to and it remained constant throughout his life. When you look at everything around us today, I think that gives a certain amount of solace, knowing that creative world can happen independently."
Hans Gal: BBC SSO: Wednesday 14 Jan and Monday 26 January, City Halls, Glasgow at 14:00.