Sir David Murray companies wound up amid financial problems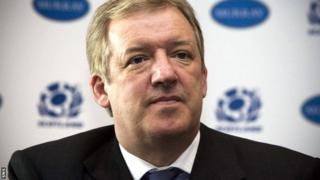 A number of companies run by former Rangers owner Sir David Murray are being wound up.
The metals and property entrepreneur has petitioned the Court of Session to appoint Deloitte as liquidators for Murray Group Holdings.
The action is also being taken for subsidiaries Murray Group Management, Premier Property Group and Murray Outsourcing.
Notice was given on 5 January but only published on Tuesday 13 January.
The documents state that a meeting was held in Edinburgh at which Sir David Murray conceded that company liabilities have forced the action.
His business empire has run into conflict with its pensioners over a lack of funds to fulfil their expected pensions. It has been reported that there is a £22m shortfall in the pension fund, and pensioners will have to take reduced pay-outs as a result.
Liquidation follows moves, under pressure from the Bank of Scotland, to sell off various assets which Sir David Murray had owned.
Rangers sale
The highest profile sale was of Rangers. With control of 85% of shares, Sir David sold them to Craig Whyte for £1 in 2011, while it carried debts of £18m
Its assets were subsequently liquidated. Under new ownership, the football club remains the subject of intense controversy and speculation about its future.
Following the finance crisis in 2008, the Bank of Scotland required Sir David to sell property, metal suppliers and Response outsourcing and call centres, some of which his family had bought through its different companies.
In the case of Murray Group Management Limited, formerly Murray International Holdings (the parent company), the general meeting passed the resolution:
"That it has been proved to the satisfaction of this meeting that the company cannot by reason of its liabilities continue its business and that it is advisable to wind up the same".
The move puts the companies into the control of John Charles Reid and Christopher McKay of Deloitte, as joint liquidators.
The notices published on 13 January in the Edinburgh Gazette state that creditors have eight days to respond.
In a statement on Wednesday, the joint liquidators said they would "manage the orderly wind down of these nine entities in accordance with their statutory duties.
"Creditors' meetings will be held for these companies in due course."
The nine companies are: Murray Outsourcing; PPG Land; Premier Burrell; GM Mining; Murray Group Holdings; Murray International Holdings; The Premier Property Group; Murray Group Management; and MMH NSS.