Union calls for university reform plans 'to go further'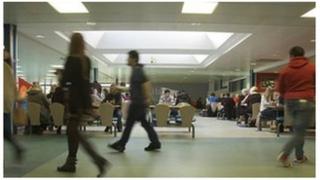 Plans to reform the way universities are governed need to go further, according to an education union.
The University and College Union called for governing bodies to have a more representative mix of people.
It backed plans to elect university chairmen and chairwomen but said candidates should not be vetted and all staff and students should get a vote.
The Scottish government's consultation on university governance is due to run until the end of the month.
A bill is expected to follow later.
Universities are publicly accountable but are fiercely proud of their independence from the state. They are each run by university courts which include each institutions' principal.
The UCU believes at least 40% of spaces on these courts should be reserved for women and that there should be specific spaces for student and trade union representatives.
It disagrees with a proposal to change the description of a university's head from "principal" to "chief executive officer".
One of the union's concerns is the above-inflation pay increases awarded to some principals.
'Go further'
UCU Scotland official, Mary Senior, said: "This Bill is a once in a generation opportunity to sort out transparency in Scotland's universities. We need a far better and more representative mix of people sat at the top table in our institutions and we need to be able to scrutinise senior pay.
'We are supportive of much that the consultation contains, but want to see politicians grasp this opportunity and go further.'
The Scottish government proposes legislation requiring Scottish university governing bodies to have elected chairs and to include staff and student representatives.
It follows a review of higher education governance led by Ferdinand von Prondzynski, principal of Robert Gordon University.
Some within universities believe they are already accountable and reject the suggestion that dramatic changes are needed. They say universities currently work to over 500 lines of reporting and accounting.
'Continuous review'
Universities Scotland, which represents 16 Universities and three other higher education institutions in Scotland, said its members had adopted a governance code that promoted principles such as transparency and inclusiveness.
A spokesperson for the organisation said: "Scotland's universities believe in robust, accountable, inclusive and transparent governance. That is why staff and students sit on the governing body at every university along with a total of around 200 independent members drawn from outside the institution from Scotland's private, public and third sectors.
"Universities believe that good governance should be under continuous review. That is why a new Code was introduced in 2013 which has seen delivery of over 350 new measures including some that give staff and students a greater role in the appointment and appraisal of Principals and Chairs. This will be returned to in 2016."
Supporters also point out that every university governing body already has at least one student member on the court and extensive staff representation, and question whether guaranteed union representation on boards is compatible with the principles of good governance.