Students on college courses up by 3%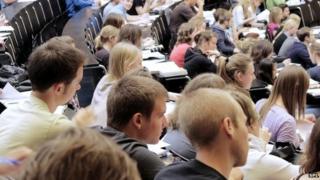 More students are studying at Scotland's colleges, according to official figures.
The number of full-time equivalent students rose 3% last year to almost 120,000.
Two thirds of full-time students completed their courses successfully.
The government's critics say colleges are being squeezed but colleges say the figures show they are punching above their weight.
The figures come from the Higher Education Statistics Agency and the Scottish Funding Council.
Other key points include:
The average hours of learning per student was 392, an increase of 4% over the year and 59% since 2006/07
There were 59,507 full-time funded students aged 16 to 24 in colleges (up 2% and 17% on 2006/2007)
Two-thirds of those from the 20% most deprived areas successfully completed their course (up 1.3% on 2012-13)
In recent years, colleges have focused their efforts increasingly on young people - including 16 to 19-year-olds who are guaranteed a place in education by the Scottish government if they are not in work.
While overall college budgets were cut - and the total number of people studying at college fell - the government committed to maintaining the so-called full-time equivalent numbers.
Colleges have also been through a radical restructuring, with individual institutions merging to create so-called "regional supercolleges".
The Scottish government argues today's figures give the clearest indication yet that work to position Scotland's college sector at the heart of economic growth is paying off.
'Right for economy'
Cabinet Secretary for Education and Lifelong Learning Angela Constance said: "The Scottish government's recent post-16 reforms were about maximising the impact of colleges by ensuring a sharp focus on helping young people into jobs and the skills our economy needs to grow.
"We can see now that vision beginning to pay dividends, with increases in FTE students, the number of 16 to 24-year-olds at college full-time and a substantial increase in students successfully completing full-time courses.
"Estimates also show that one full-time further education student was equivalent to approximately 140 carrying out shorter courses that do not lead to a job."
Ms Constance added: "It is clear that the move to college courses that lead to a job was the right one both for our economy and for young people seeking the skills to get into employment, something which has also been reflected in recent youth employment levels.
"Rates of course completion and retention in both further and higher education at colleges have increased and the performance of those from our most deprived areas also continues to improve.
"However, the Scottish government is clear that more needs to be done in this area, which is why we will be setting up a Commission on Widening Access to advise us on the critical steps towards our goal of equality in access to education."
The government's critics make the point that overall budgets have been squeezed and argue fewer people overall are studying at college.
'Better spent'
Some argue that a proportion of the money being spent providing free university tuition for all Scottish students - many of whom are from comfortably-off backgrounds - could be better spent on colleges which can play a big role tackling social exclusion and helping people back into education.
Shona Struthers, chief executive of Colleges Scotland, said: "This record success rate is very good news for colleges and students.
"A high proportion of people studying in colleges start with no qualifications at all, so the rising level of those successfully completing their courses is most welcome.
"The figures underline the vital role of colleges in contributing to the strength of the Scottish economy.
"It also shows that colleges continue to punch above their weight and deliver, even in the midst of major reform and financial pressures."
The general secretary of the education union the EIS, Larry Flanagan, warned there had been a significant decline in overall staff and student numbers in recent years,
He said: "While the Scottish government's decision to focus on full-time course provision has some welcome benefits in terms of skills and employability, these figures also highlight the continuing decline of both student and staff numbers in our FE colleges.
"For many learners, particularly those returning to education after some time away, part-time provision is an essential step to restarting their personal learning journey."