Jessie King - the last woman executed in Edinburgh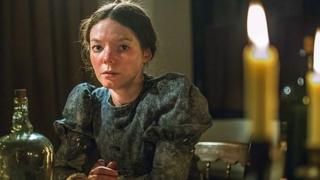 Jessie King was the last woman in Edinburgh to be executed, after she was convicted of taking money to adopt babies and then killing them. But was she a callous serial killer or a vulnerable scapegoat?
One afternoon in October 1888, a group of young friends made a makeshift football from a bundle of oilskin they had found in the lane behind Cheyne Street.
Little did they know what was inside the bundle.
The discovery of the body of a dead child led to the authorities being alerted and Jessie King and her partner, Thomas Pearson, came under suspicion.
When their house was raided a baby girl was found strangled in the coal closet.
Jessie King took on all the guilt, claiming that Pearson knew nothing of what went on.
When he was subsequently released, she asked to withdraw her confession but was too late.
The case of Jessie King was about to bring Edinburgh face-to-face with one of the biggest scandals of the Victorian period - baby-farming.
In February 1889, 27-year-old King appeared at the High Court in Edinburgh accused of the murders of three babies.
She was not their mother but had taken on the children after responding to advertisements in newspapers for "Person wanted to adopt child".
For the payment of a small amount of money, the baby-farmer would take the child which was then either killed or severely neglected.
The babies in this case were the illegitimate sons and daughters of domestic servants and factory girls whose unwanted pregnancies threatened what was already a precarious existence.
Powerful hold
What could have driven Jessie King to such a fate?
Vulnerable, uneducated and penniless, Jessie had struggled to survive.
She met Thomas Pearson when she was heavily pregnant to a man who had offered to marry her, but somehow fell under the spell of the disgraced Glasgow man, who was some 30 years older than her.
He was a middle class figure who had abandoned his wife and family and was drinking himself towards destitution, yet he still seemed capable of a powerful hold over Jessie.
What exactly went on in the houses they stayed in between August 1887 and October 1888 may never be known.
But it appears the pair "adopted" at least three babies and they did not live long.
During her trial Jessie was seen as beyond evil.
Eleanor Gordon, professor of social and gender history at the University of Glasgow, says: "Jessie was given no mercy, either in the press coverage or even in the drawings that depicted her.
"She was portrayed as a ravaged, wretch, a rat-like creature, instead of a 27-year-old woman who was vulnerable and perhaps had a mental health problem."
Allowed immunity
Pearson proclaimed his innocence and his ignorance of what happened to the children.
"That is beyond belief," says Prof Gordon.
Historian and broadcaster Louise Yeoman says Pearson turned Queen's evidence and helped convict King.
She says: "He was allowed immunity from prosecution for being a Crown witness."
There was good reason to suggest Jessie had not been alone in the crimes.
For one, the remains of one of the victims were found on a shelf which was too high for Jessie to reach. Another child was found wrapped in Pearson's coat.
It took the jury just minutes to find Jessie guilty and she was given an automatic death sentence.
Her Roman Catholic confessor wrote pleading for her life to the Secretary for State: "To save Pearson she made the statement which has done her so much injury. She now declares that he in one of the cases did the deed and in the other two, he stood near directing and guiding her in the administration of the [whisky]..."
"It seems a more likely solution of this terrible crime that this hard-hearted man and unfaithful husband - an aged man! was there directing the unsteady and clumsy hand of a poor woman he had made his slave."
On the night of 10 March 1889, Jessie parted with her own baby, Thomas, for the last time. She was hanged the next day.
The last woman executed in Edinburgh is buried under the car park of St Andrew's House, which used to be the site of the Calton Gaol.
Pearson died in Glasgow the following year.
Louise Yeoman says: "I don't think justice was done. Thomas Pearson was clearly the person that came up with this scheme.
"I don't think Jessie could have come up with it on her own. Thomas Pearson really should have carried some responsibility for this."
Advocate Clare Connelly says: "It is my belief that if Jessie King was to be tried for a similar crime today, given what we know about her mental impairment, her relationship with Pearson, the controlling and coercive nature of that relationship, that she would certainly be pleading diminished responsibility to a charge of murder and that, if successfully pled, would have resulted in a conviction of culpable homicide rather than murder."
Baby Killer? Sguelachd Jessie King will be broadcast on BBC ALBA on Thursday 22 January at 21:00.