Creative Scotland boss Richard Findlay on 'learning curve'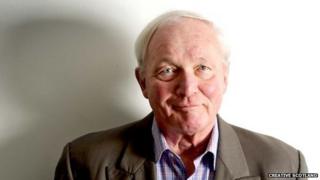 The new chairman of Creative Scotland has said he is on a "learning curve" and is listening to the arts community.
Richard Findlay, who was founding chairman of the National Theatre of Scotland, is taking over from Sir Sandy Crombie as the quango's head.
Following its creation in the summer of 2010, the arts funding body has faced criticism from leading writers and artists over the way it is run.
Last year it published a 10-year plan promising a simpler funding process.
Chief executive
Mr Findlay, 71, who chaired STV group from 2007 until 2013, told BBC Scotland he hoped his background of working in the arts would stand him in good stead.
He said: "I am on a learning curve just now and what I am doing is not talking to too many people, but I'm listening.
"I need to learn a lot more about what is happening within the arts community and what their problems are. What issues need to be resolved and how Creative Scotland can help do that."
Creative Scotland - which has a budget of more than £100m - was formed from a merger of the Scottish Arts Council and Scottish Screen.
Mr Findlay replaces Sir Sandy, the ex-Standard Life chief executive, who remained in his job when Creative Scotland's first chief executive Andrew Dixon resigned two years ago.
He quit after 100 leading artists launched an attack on the management of the organisation which they said was being run with "a corporate ethos that seems designed to set artist against artist and company against company in the search for resources".
Creative community
Mr Findlay, who trained as an actor at what is now the Royal Conservatoire in Glasgow, before beginning a media career in radio, admitted it had been a turbulent few years for the organisation.
But he said the process of building trust was already well under way.
He said: "We are here to actually help not to hinder. At the end of the day, Creative Scotland would not exist if there was not a creative community. We are the servant of the creative communities throughout Scotland. We are not the masters."
Mr Findlay said he would continue to "impress upon government the importance of the arts" and that they needed to be properly funded.
"It is always disappointing when you don't have sufficient money," he said.
"The application for funding exceeded what we had available by something like 100%.
"There will always be people who are disappointed."
He added: "On the other hand what we need to do is make sure they understand why Creative Scotland is making the decisions it makes and it is important that we make these decisions in an open way.
"And that they understand, even if they don't like it."