Broken-back skier Charlie Guest prepares for World Championships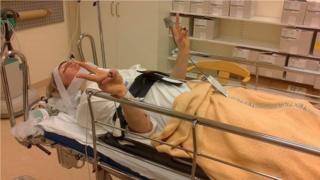 In a few weeks' time, Charlie Guest will stand at the top of a grand slalom track ready to compete in her latest skiing competition.
She will mutter some words of encouragement under her breath on the start line:
"I've done this many times before," she will say.
It will be natural for Charlie to reassure herself at this moment. After all, it will be her first competition since she broke her back only two months ago.
"I am hoping there won't be any nerves," said Charlie, speaking from a training camp in Austria.
"We are working on a lot of mental things - key words to say at the top of the course, to remind myself. It was just one run that went wrong in the end."
Back protector
On 22 November, while training in Sweden, Charlie was skiing down a giant slalom course at around 30mph when she lost control and fell. She tumbled off the course into the forest, and hit a boulder.
Winded, she tried to scream out. Her coach Stefan Moser reached her side, and asked the former Perth schoolgirl if she could feel all of her body.
"We can crash all the time as part of the sport," said Charlie. "If you had inspected the course, you would never have thought someone was going to crash there.
"The combined mistake I made with my ski, and the snow that was around that day, all led to it happening."
Charlie spent eight hours strapped to a backboard as medics transported her 250km (155 miles) to hospital in Ostersund.
While never thinking the injury was career threatening, she was deeply worried about how much damage had been done as the Swedish doctors carried out their tests.
It was at this moment Charlie realised how lucky she was. Her coach had insisted she wore a back protector that day.
Charlie had had an ongoing argument with Stefan, with the coach insisting she wear the safety equipment but the athlete refusing as it restricted her movement.
Stefan threatened to leave as Charlie's coach unless she wore the protector, and she reluctantly agreed.
On the day of her accident, she wore the protector for only the third occasion in her life in the grand slalom. She had done the discipline nearly 1,000 times before without the equipment.
'Full recovery'
She added: "Everyone said I was incredibly fortunate to be wearing it. I could have some serious damage to my spinal column and actual vertebrae itself which would have left me with long-lasting damage in my back.
"Luckily, I will make a full recovery.
"It was a massive reality check. It really knocked it hard into me - how could I have been so stupid to have never worn one before?
"When I look at tourists skiing around - there are no barriers at the side of the piste.
"There are rocks, trees, everything. You could easily go off and hit something. I could not believe how naive I had been about the entire situation. I crash all the time in training and nothing had ever happened to me before. It was a real shock. You are not invincible."
Charlie, who has skied since she was seven, is now determined to make others - especially in the UK - aware of wearing a back protector at all times while skiing.
"I feel so, so lucky. It is sport that comes with the dangers. Everyone is aware of that when they stand at the top of a racecourse and chuck themselves down a slope.
"What needs to happen is we all need to be a bit more aware of what we can do to minimise the outcomes. Wearing something like a back protector is a pretty easy thing to do and it can save you from some horrible injuries."
Charlie could walk again about eleven hours after her crash, and returned home to Perth a few days after the accident.
She recuperated at the Sport Scotland Institute of Sport in Stirling, and skied for the first time at the end of December.
On Monday, while continuing her training in Austria, she was named in the British squad in the slalom and giant slalom for the Alpine World Skiing Championships, which will be held in Beaver Creek, Colorado in February.
She will race in a few weeks for the first time in Austria or Slovenia with a back protector on, as her road to full recovery and to the championships in the United States continues.
The World Championships will be the 21-year-old's first major international contest as a senior, having won the British title in slalom and giant slalom last year.
Prior to the accident, Charlie was aiming for a top 30-35 in February. That remains her goal.
"Obviously, if I get smashed in the races that I do in two weeks' time, or I don't feel comfortable for these races, then we make another decision not to go," she added.
"But at the moment I am feeling strong and confident that I will be able to go there and give it a decent shot.
"At the end of the day, I do feel that is it pretty remarkable that I have managed to get back, and still be selected and still feel like I'm in with a chance."