Labour calls for 'urgent action' over oil and gas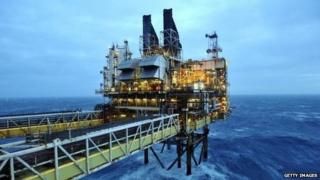 Shadow Chancellor Ed Balls and Scottish Labour leader Jim Murphy have called on the UK government to take action to support the North Sea oil industry.
Labour's call came as plunging in oil prices lead to fears for the long-term future of an industry that supports thousands of jobs.
Mr Balls and Mr Murphy met oil and gas industry representatives in Aberdeen.
Meanwhile, the chancellor indicated that measures to shore up the industry may be announced in the Budget.
George Osborne told the Commons Treasury select committee: "I took decisions in the Autumn Statement to reduce taxes on North Sea oil, anticipating the pressures that the falling oil price would have on the industry, and I'm sure we are going to have to take further steps at the Budget."
North Sea oil expert Sir Ian Wood, who led a review of the industry, previously told BBC Scotland a major tax cut was necessary to give producers the confidence to keep their operations going.
Last week, Schlumberger, the world's largest oil and gas services group, confirmed that North Sea jobs would be lost as part of its plans to cut 9,000 posts internationally.
'Biggest threat'
This followed BP's announcement that 300 North Sea jobs would be cut.
The Scottish government has also called on Westminster to make urgent changes to the tax regime for the oil and gas sector.
First Minister Nicola Sturgeon announced last week the creation of a jobs task force and a scheme offering financial incentives for employers to take on North Sea apprentices who are facing redundancy.
Labour's shadow chancellor Ed Balls said: "Hundreds of jobs have already been lost, with thousands more at risk.
"This is a worrying time for oil workers and their families. Everybody who can take action should do so. Walking by on the other side isn't the response of a government in control. That is why we need to see urgent action to improve the tax incentives for North Sea oil investment."
He added: "This is all about what's best for maximising the potential of one of the country's key industries. But postponing this until the Budget in two months' time is too late. The time for action is now."
Mr Murphy added: "When I was in Aberdeen a couple of weeks ago I set out my plan for a resilience fund to support critical industries in times of difficulty. The oil industry is vital to the Scottish economy and nobody is in any doubt that it needs support."
Scottish Energy Minister Fergus Ewing said Labour must clearly back proposals for a reduction in tax on the oil and gas industry to ensure a vibrant future for the North Sea.
The SNP minister said: "Every day without action from the UK government risks further damage to the oil and gas industry. Businesses and oil workers in the North Sea do not need to wait for another review they need action now.
"Labour must give their full support to the immediate reduction in the supplementary charge and support an exploration tax credit that would secure a strong future for the North Sea.
"The Scottish government has set out clear proposals that would support the industry and industry experts like Sir Ian Wood have endorsed our approach."