Author of Scottish child protection report concerned about delays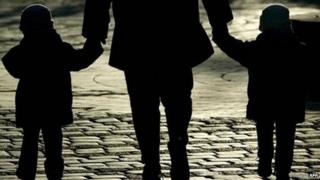 The author of a report into Scotland's child protection system has expressed "disappointment" with the Scottish government's "lack of progress" implementing its recommendations.
The Brock Report was published in November 2014.
The then education and lifelong learning secretary, Mike Russell, accepted the recommendations in full.
However author Jackie Brock said, other than plans for a summit in February, "little or no activity" was underway.
The report entitled 'Safeguarding Scotland's vulnerable children from child abuse' called for a programme of improvement and warned that more action was needed to address gaps in child protection processes.
It made a number of recommendations including:
Improve the confidence and competence of the current workforce
Improve the current system to help make sure it can protect children who are "vulnerable", but not officially "looked after"
Reinforce the authority and capacity of the 32 multi-agency child protection committees
Address concerns around joint inspections of children's services
Make the legislative and organisational landscape less complicated
Make consultation with children, young people and local communities standard
Children in Scotland Chief Executive Ms Brock said: "We were pleased that the then cabinet secretary accepted the report's recommendations, and hope that this summit is not a one-off and that progress will begin in advance of the summit and continue thereafter."
She will outline her views at a conference in Edinburgh called 'Child Protection 2015: Safeguarding From Abuse'.
The Scottish government has published a national action plan to tackle child sexual exploitation.
A spokeswoman said: "The safety and wellbeing of children and young people is a priority for the Scottish Government and an issue we take extremely seriously. That's why we work continuously with law enforcement, children's charities, Parliament and others to protect children from abuse and target those who attempt to prey on them.
"The commissioning of the Jackie Brock report was one of a number of steps to protect our children.
"In the two months since this report was published we have been working hard with our partners to continue strengthening child protection policies, are convening a National Strategic Leadership Summit on Child Wellbeing and taking forward the commitments in the wide ranging national action plan on child sexual exploitation that we published in November to safeguard young people at risk."