Daring to cross the presiding officer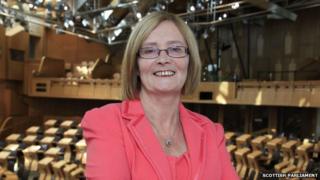 It is never difficult, according to PG Wodehouse, to tell the difference between a ray of sunshine and a Scotsman with a grievance.
Had Plum been in the press gallery at Holyrood today, he would undoubtedly have extended his comments to the female of the species.
Right from the outset, one could discern that Tricia Marwick, the Presiding Officer, was less than content. Indeed, she looked notably severe, girding for a chiding.
The object of her wrath? The Scottish government in general and the Health Secretary Shona Robison in particular.
Ms Robison had announced the expenditure of some £100m to alleviate the problem colloquially known as bed-blocking whereby the discharge of patients from hospital is delayed because of difficulties in arranging care.
A source of general rejoicing? Well, certainly, it was well received among political parties - with the customary caveats about it being "too little, too late" and the customary rejoinders that it was an excellent scheme.
However, the snag for Tricia Marwick was that this plan had been announced to the waiting world via the wicked media.
'Unsatisfactory' reply
Ms Marwick believes that announcements of such significance should be made first to parliament - to enable scrutiny and cross-questioning, but also to maintain the status of the institution.
I confess to a problem here, derived from my background. I have been a journalist now for approaching four decades.
It is my firm conviction that government and indeed opposition plans should be disclosed first to me or, failing that, a BBC colleague. Indeed, I believe that should be in the Scotland Act.
However, I can appreciate that Ms Marwick and her fellow chairs, including the Commons Speaker, see things rather differently.
In any event, she was deeply displeased. She had, she told MSPs, spoken to the minister and had received an "unsatisfactory" reply.
The episode, she said, involved "gross discourtesy" to parliament, particularly as she had noted comparable problems in the past without, it seemed, any redress.