First Group will not reduce fares despite oil price slump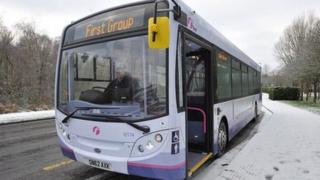 Bus passengers travelling on FirstGroup services will not see a reduction in fares despite the recent slump in oil prices.
The company said its hedging policy meant it was committed to buying fuel at higher prices until next year.
A FirstGroup spokesman confirmed the firm would continue to raise bus fares in line with inflation.
But said its bus pricing strategy had still seen 19 consecutive months of commercial bus passenger volume growth.
The Aberdeen-based firm, said like-for-like bus passenger numbers were up 1.4% in October to December in the cities where it operates, including Bristol, Glasgow and Sheffield.
In the US the firm has also seen a 6% rise in sales growth for its First Transit city bus service.
However, this was offset by a 1.1% like-for-like fall in dollar revenues from the company's Greyhound buses, who have seen would-be passengers switch to driving due to the reduced costs of running a car.
---
FirstGroup stats October-December 2014
UK bus passenger numbers - 1.4% increase
UK Rail passenger revenue - 7.3% increase
Sales growth for US First Transit city bus service - 6% increase
Revenue from Greyhound buses (dollar) - 1.1% decrease
---
FirstGroup has also celebrated "robust passenger volume growth" in its rail operations.
Its existing franchises, which include Great Western and ScotRail, saw like-for-like passenger revenues grow by 7.3%.
The firm, which employs 117,000 people in the UK and North America, has also been in talks with the Department of Transport (DfT) over the extension of its contract for the Great Western service until at least March 2019.
However, this progress has been offset by the group's failure to win a number of new franchises.
Failed bids
These include a new 10-year ScotRail contract, operated by FirstGroup since 2004, which will now be run by Dutch rival Abellio from April, and the loss of its Caledonian Sleeper franchise to Serco.
FirstGroup also failed in bids to win Essex Thameside from current operator National Express, and the East Coast service, which was awarded to a joint venture between Stagecoach and Virgin.
Its Capital Connect contract in London was swallowed up as part of the larger Thameslink franchise, awarded to Govia.
FirstGroup said: "We continue to examine and assess the feedback from this and previous rail bids to help shape our proposals in future competitions."
As shares today rose by 7%, Brokers at Shore Capital said that Greyhound revenues aside, trading at the firm's other divisions was "positive and to varying degrees ahead of our expectations."
FirstGroup chief executive Tim O'Toole said: "Overall we are on course to meet our full year expectations for the group."