Celtic Connections tunes into business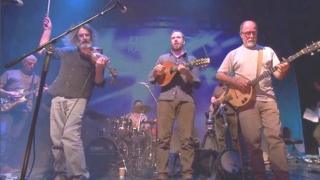 The dark, cold days of January discourage people from venturing out and about but for music lovers the month is a highlight because of the Celtic Connections festival in Glasgow. But what does an event like this bring to the city and beyond - and how difficult is it to make a living in traditional music?
"Traditional music has its place now in Scotland," says Celtic Connections' artistic director Donald Shaw.
"And it's not looked at as being something from the ghettoes or something that belongs to another generation. It belongs very much to this generation."
In the main auditorium at Glasgow Royal Concert Hall, musicians are tuning up ahead of a rehearsal. Some musicians are returning from breaks, on stage there is a range of instruments - fiddles, pipes, drums and keyboards.
"It's my favourite month of the year," says piper Ross Ainslie, who is one of those taking part.
"I've been coming to the festival since I was 14 years old and I've probably not missed one.
"The folk music scene is kind of like a big family, it's very open and sharing. With your heroes, you can go up to them and chat and go and play music with them."
Mr Ainslie is one of those making a living on the traditional music scene and he does so mainly by gigs which can involve lots of "stupid travelling" - like going to New Zealand for the day.
He plays in five or six bands and is passionate about the fusion of traditional music with other genres.
In the future he imagines he will spend more time on solo projects.
"For the next 10 years I'll not be saying 'no' to anything," he concludes.
"But then maybe when I get to 40 or something I'll have to start being sensible with my time."
Over the course of 18 days, Celtic Connections includes more than 300 performances and about 2,000 musicians. Last year ticket sales were more than £1m.
"I think it's more about the sense of community and occasion which comes with the festival," says Donald Shaw.
"I guess from a business point of view and a logistics point of view we have a fairly big platform for organisations in terms of lights and sounds and production and travel and hotels and all that goes with it.
"It kind of spreads its tentacles into all sorts of businesses while the festival's on."
As much as the festival is about the music, there is also business being done.
The middle weekend is designated Showcase Scotland and is essentially a shop window for international promoters, festival organisers and others. About 180 delegates from as far afield as Vietnam, Pakistan, Canada and Europe, as well as the UK, will attend.
The idea is to show them what's on offer musically from Scotland and hopefully for them to book acts and artists as a result.
"Me being here as a delegate from India is about looking at music from this region which I can take back to India and expose to our audiences," says Rudy David, who runs a performance venue and music foundation in Bangalore. He is visiting Showcase Scotland for the second year.
"We have identified bands, quite a few of them actually, that I never would have known if I wasn't at Celtic Connections last year."
In the cafe at the concert hall, the person charged with producing this event is bustling between tables, stopping every few steps to greet someone.
Lisa Whytock of Active Events is fresh from overseeing a speed networking event for delegates, and is expecting an "intense" few days composed of events and chances for bookers to meet both artists and their representatives so that deals can be done.
"There's an expectation that if a delegate has been previously, then there's a minimum of two artists that they're expected to have booked," explains Ms Whytock.
She says an independent survey they commissioned about the event suggests £2.2m in fees is generated a year.
Ms Whytock adds: "But I also think really the value of this event isn't just the direct, economic, monetary spend - it's the relationships that continue to develop and build for years and years and years."
Like the wider music industry, traditional musicians are having to adapt.
Donald Shaw, who was a founder member of Capercaillie, says he detects a new-found "confidence" but adds that commercially things may not be easier because more musicians are playing traditional music.
"I think even the big stars find it difficult to rely on record sales so the touring circuit is where it's at," he continues.
"It's not easy to make a living as a traditional musician but I do think that first and foremost the most important thing is excellence in what you do.
"If you excel at what you do and then make exciting and inspiring music then the commercial side will come along with that."
You can hear more about the business of traditional music on BBC Radio Scotland's Business Scotland programme and on the BBC iPlayer.