Snow warning as icy blast set to hit UK on Wednesday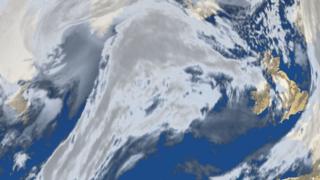 Warnings of snow and ice have been issued for Scotland, Northern Ireland and the north of England.
The Met Office said snowfalls could hit parts of the UK from Wednesday morning until Thursday evening.
Driving could become difficult at times with blizzards over high ground and snowfalls of 3-10cm even at low levels.
The yellow be aware warnings cover all of Scotland and Northern Ireland, along with the north of England, Yorkshire, Humber and East Midlands.
---
Check out the latest travel news for Scotland
Around the country
For the latest on the roads visit the BBC's travel news page and keep up to date with incidents and roadworks on the motorways here.
Around the country you can check for updates from:
Alternatively, for regular travel bulletins listen live to BBC Radio Scotland and follow @BBCTravelScot.
In times of severe disruption you can also follow the BBC Scotland severe weather Twitter list of key sources.
Below are a number of other traffic information sources.
Other links