Court and prison staff in PCS union strike over pay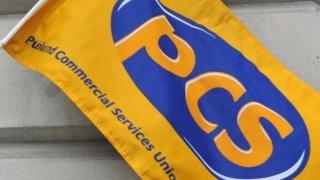 Court staff and prison workers are on strike in Scotland in a dispute over pay.
The 24-hour industrial action involves members of the Public and Commercial Services (PCS) union.
Picket lines formed outside several buildings as the strike got under way.
The Scottish Court Service (SCS) said some courts may be affected, while the Scottish Prison Service (SPS) said it did not expect any major disruption to normal prison regimes.
Staff are unhappy with their current conditions and have claimed they are working more for less pay as staff who leave are not replaced.
The PCS is seeking a 5%, or £1,200, pay increase for public-sector workers, citing price rises of 16% and real-term pay cuts since the financial crisis.
Rolling strikes
The union said its members working for the Scottish Court Service (SCS) were working under enormous pressure to deliver services with fewer resources and with "little or no reward for their hard work".
It highlighted concerns about additional workloads at the Scottish Prison Service (SPS) as it undergoes an organisational review.
The strike also involves PCS members working for the Crown Office and Procurator Fiscal Service (COPFS) and the Risk Management Authority.
It is the final walkout of a two-month rolling programme of industrial action by the PCS across the Scottish devolved governance sector.
An estimated 28% of SCS staff (about 435 people) were taking part in the industrial action compared with about 26% during similar action in July last year.
A SCS spokesman said: "No courts are closed today although some business has been adjourned to allow essential business to proceed in the Supreme Courts, Sheriff Courts and Justice of the Peace Courts.
"Some courts are offering a limited service and there is no public counter service being provided at Stornoway, Glasgow, Greenock, Kilmarnock, Airdrie, Ayr, Lanark and Alloa.
"Despite the level of staff taking part in industrial action at some locations, the joint planning with justice partners will ensure that no cases are lost due to industrial action."
The PCS union said it expected about 2,000 members to take part in Monday's action.
'New activists'
It said picket lines formed outside courts in Glasgow and Edinburgh as well as several prisons including Shotts, Polmont Young Offenders' Institution and Barlinnie.
A spokesman said: "We've had excellent support, with reports that new activists joined the picket lines for today's action.
"We are delighted to get such strong support on what is the last day of this tranche of action. They have shown that they are not prepared to accept the current deal."
An SPS spokesman said: "We do not anticipate any major disruption to normal prison regimes."
The Scottish government said it was committed to working with the PCS and other trade unions to address the challenges presented by the current financial climate.