Ed Balls: 'No coalition between Labour and SNP'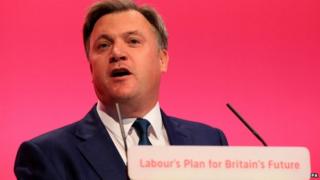 Shadow chancellor Ed Balls has ruled out entering a coalition with the SNP should Labour fail to win a majority at the general election in May.
Mr Balls was asked on Sky News if the party could do a "deal" with the nationalists if - as polls predict - the SNP win a number of seats from Labour in the election.
Mr Balls said: "No. And I don't think anybody is suggesting any suggestion of a deal with the SNP at all.
"We're fighting hard for a majority."
Over the weekend Prime Minister David Cameron said the prospect of a Labour administration being "held hostage" by the SNP was "genuinely frightening".
Mr Balls' comments come a few weeks after Jim Murphy, the leader of the Scottish Labour Party, said his party "does not want" a coalition with the SNP.
Scottish Labour deputy leader Kezia Dugdale, meanwhile, has said she would have "no qualms whatsoever" about working with the SNP.
In November, former SNP leader and First Minister Alex Salmond said it would be "foolish" for his party to rule out entering into a coalition at Westminster.
A number of polls have suggested Labour will lose a number of seats in Scotland at the election to the SNP.
In response to Mr Balls' comments, Angus Robertson MP, the SNP's leader at Westminster, said: "Ed Balls seems oblivious to polls that show that the people of Scotland want to see the SNP holding the balance of power at Westminster with a minority Labour government.
"People in Scotland would not forgive Labour if they refused to work with the SNP and ushered in another five years of Tory government attacking hard-working and vulnerable people in Scotland.
"Left to their own devices, Labour would continue with Tory austerity."