It's a Question of Sport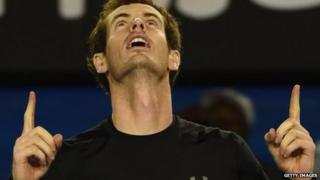 Tennis, anyone? Humphrey Bogart denied uttering these words while an aspiring thespian.
They are occasionally to be found in the oeuvre of P.G. Wodehouse, usually delivered by a young hopeful destined, you can just tell, to land in the soup pretty shortly.
But today that question echoed around Holyrood. Firstly, in the eyrie occupied by BBC Scotland. It was decided that we would stick with coverage of Andy Murray's gallant efforts in Melbourne. Questions to the First Minister would have to wait.
The alternative scenario would have involved me, smiling courageously to hide my fear, interrupting what proved to be the final set to redirect viewers to the Scottish Parliament. Aye, right. We recorded FMQ, commentary included, and broadcast it to an astonished nation as soon as Andy had claimed his rightful place in the final.
But the tennis question had also occurred to our leaders. Resorting to Twitter, Ruth Davidson mused about the choice facing her. Should she prepare for First Minister's Questions, honing those barbs. Or should she watch the tennis?
Collective skive
Tough call, Ruth, tough call. The First Minister piled in, offering "to come to some arrangement" - which is a very governmental way of suggesting a collective skive. Ms Davidson topped up the enticement: she'd bring the snacks.
And what of Labour's Kezia Dugdale? Did she disdain this outbreak of frivolity? Well, up to a point. She offered to chip in for Pimm's.
And the Liberal Democrats? Was the Andy fan club to be expanded? Would it once more be "three ladies and a little Willie...Rennie", as Tory MSP Jackson Carlaw previously categorised the Holyrood leadership?
Turned out Mr Rennie was already watching the match from Melbourne: while simultaneously, no doubt, conducting a multi-layered statistical analysis of the Barnett Formula.
Well, it was his fallow week - when he doesn't get a chance to question the First Minister. An arithmetical calculation based upon the relative dearth of LibDem members.
And did they carry out these jocular intentions? Did they watch Andy to the glorious close, that winning ace? Friends, they did not. Duty triumphed.
Still, Ms Davidson briefly interrupted the cross-party hectoring to advise the chamber of a Murray victory. Prompted by the First Minister, there was a consensual round of applause.
Pupils losing out
It was the only moment of agreement. After some preliminary skirmishing, Ms Dugdale pursued the issue of exam appeals. New figures, she said, indicated that state school pupils were losing out - because the number of appeals from that sector was disproportionately down since schools (that is, local authorities) were obliged to pay upfront. This contrasted with the private sector where parents could stump up.
Ms Sturgeon insisted that the system was "right and proportionate" - while slightly modifying that by inviting Ms Dugdale to come up with suggestions for reform - with, she reckoned, little prospect of a response. To be clear, Labour is not suggesting that state school parents should be able to pay - as that would, they say, simply aggravate unfairness.
As for Ms Davidson, she traded statistics with the First Minister on college places. Course numbers are down. Fifteen-Love. Courses getting students into work are the aim. Fifteen-All. Stem courses - science, technology, engineering, maths - have suffered. Thirty-Fifteen. More students have completed qualifications, action under way on STEM. Thirty-All.
Substantive, serious issues, vigorously pursued and vigorously addressed. Advantage? As ever, that's up to you.