More snow and ice forecast for Scotland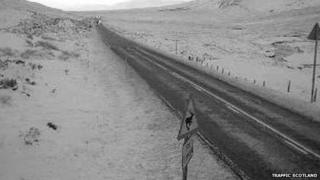 The Met Office has issued yellow "be aware" warnings for snow and ice across Scotland over the next few days.
A warning of icy driving conditions on Friday evening is followed by another of snow and sleet showers which comes into force on Saturday morning.
On Sunday and Monday, coastal areas in the east and west of Scotland and the north may experience more snow.
All of eastern Scotland could be in line for further wintry showers on Tuesday.
There has been further disruption for some school pupils in Dumfries and Galloway, with eight schools closed due to snow and ice.
All of those schools are expected to open on Monday.
Ch Supt Iain Murray, from Police Scotland, urged motorists to carefully plan their journeys and said localised conditions could make driving difficult.
"If you do decide to travel, ensure your vehicle is well prepared before setting off; make sure your windscreens are completely free of snow and ice, and your lights are working and clean," he said.
Speaking on BBC Radio Scotland, John Mitchell at the Met Office in Aberdeen, warned that some parts of the country should prepare for an icy blast over the weekend.
He said: "As we go through Saturday and into Sunday we will see the proper arctic air coming down across Scotland and that's when we will see the showers really turning to snow.
"I think it will still be across the more northern half of the country. Southern parts, Edinburgh and Glasgow will miss most of the snow, seeing some further sunshine at times."
Wintry weather caused hazardous driving conditions across parts of Scotland on Thursday.
Heavy snow affected routes across the country, including the main motorways, after the Met Office issued an amber "be prepared" warning for much of Scotland, Northern Ireland and northern England.
The conditions also led to more than 100 school closures.
Tulloch Bridge in Inverness-shire saw the deepest snow in Scotland with 23cm (9ins) while there was 9cm (3ins) in Aviemore.
---
Check out the latest travel news for Scotland
Around the country
For the latest on the roads visit the BBC's travel news page and keep up to date with incidents and roadworks on the motorways here.
Around the country you can check for updates from:
Alternatively, for regular travel bulletins listen live to BBC Radio Scotland and follow @BBCTravelScot.
In times of severe disruption you can also follow the BBC Scotland severe weather Twitter list of key sources.
Below are a number of other traffic information sources.
Other links
---
Tell us how the snow and wintery conditions have affected you? Share your experiences by emailing haveyoursay@bbc.co.uk.
Send your pictures and videos to yourpics@bbc.co.uk or text them to 61124 (UK) or +44 7624 800 100 (international). Or you can upload here.