Further wintry showers forecast for Scotland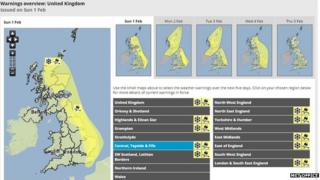 Further wintry showers are expected to sweep much of Scotland, following a brief respite in parts of the country.
A band of snow will track south and eastwards across the country from the north late on Monday after a mainly dry day for most of Scotland.
The band will bring between 2cm and 5cm (1-2in) of snowfall at low levels, and 10cm (4in) over high ground.
The Met Office has issued a yellow "be aware" warning of difficult road conditions.
Winds will strengthen as that wintry band pushes through, reaching gale force over the Northern and Western Isles.
On Sunday, wintry showers will continue to affect the Northern and Western Isles, the Highlands and the north-east, falling as rain and sleet on the coasts but snow inland.
They will not be as frequent or as heavy as Saturday's showers.
Northerly winds will be lighter, although still brisk in the north and east.
On Sunday evening, showers will continue to become more isolated, and largely confined to the Western Isles and the north-west coast by morning.
Elsewhere, it will be dry with a widespread frost, severe in places, and a risk of ice on untreated surfaces.
Winds will continue to ease, allowing temperatures widely to dip below freezing - as low as -10C in parts of Perthshire, Lochaber and Argyll.