Singer Claire Hastings named Young Traditional Musician of 2015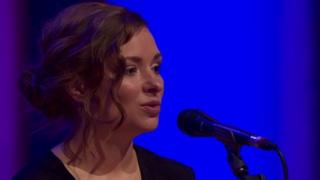 Claire Hastings from Dumfries has been named the BBC Radio Scotland Young Traditional Musician for 2015.
She fought off competition from another singer and four musicians to take the top prize at the City Halls in Glasgow on Sunday night.
The 25-year-old singer has a degree in Scottish Music from The Royal Scottish Academy of Music and Drama (now The Royal Conservatoire).
She said she was "absolutely overwhelmed" to be named the winner.
As she accepted the title she revealed she had been battling with a viral infection for the past week.
She said: "If this competition had been last weekend I don't think I would have made it, to be honest.
"This is amazing. I really don't know what else to say."
After graduating, Claire spent 18 months travelling the world, but was drawn back to Scotland and is now living in Glasgow.
She is currently singing in a duo alongside Robyn Stapleton, and also in the newly-formed band Top Floor Taivers. Claire is also involved in several teaching projects.
The other finalists for the Young Traditional Musician title were singer Ainsley Hamill from Cardross, fiddle player Gemma Donald from Shetland, Heather Downie from Dunblane who plays the clarsach (a Celtic harp), Ryan Young, another fiddle player from Cardoss and Seamus O Baioghill, a fiddle player from Skye.
The final of the competition was held as part of the Celtic Connections Festival in Glasgow with each finalist performing a 15 minute set.