Scots climber Roger Cookson dies on Andes mountain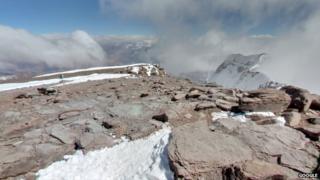 A Scottish climber has died after falling ill while attempting to scale a mountain in the Andes.
Roger Cookson, 58, suffered a heart attack as he climbed Mount Aconcagua in Argentina.
The 6,960m (22,835 ft) mountain is the highest peak in the Western Hemisphere.
Argentine authorities said Mr Cookson was ascending the peak with a friend and a tour guide on Saturday. He reportedly took ill as he approached the summit.
His companions called for help, but rescuers were unable to save him, public security officials in the province of Mendoza said.