Moderator to meet Pope in Rome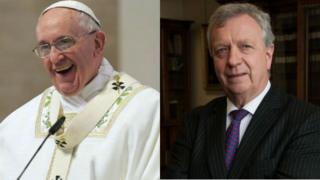 The Moderator of the General Assembly of the Church of Scotland is to have a private audience with the Pope in Rome.
The Rt Rev John Chalmers will meet Pope Francis at the Vatican on Monday, 16 February. It will be the first time a Moderator and a Pope have had a private meeting in Rome since 2001.
Mr Chalmers said: "I am honoured to be able to meet His Holiness Pope Francis.
"I hope to be able to discuss a range of issues including how faith is regarded in the 21st century."
He added: "I will also share with His Holiness my sense that for some years now ministers and priests have found new levels of friendship.
"People's attitudes have changed as they have come to see in 'the other', first a shared humanity and then a shared faith."