Engine on freight train derails at Georgemas Junction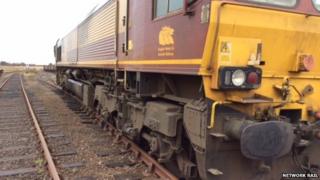 The engine on a freight train has derailed near Georgemas Junction.
Rail services on the Far North Line are expected to be disrupted between Helmsdale and Wick until about 18:00.
Network Rail described it as a low speed derailment of an engine at a set of points at 07:50, while it was shunting wagons.
The wagons, which remained on the line, were carrying pipes believed to be for the oil and gas industry. No-one was injured.
Scotrail said the 08:02 Wick to Inverness service was cancelled.
It said alternative transport was provided from Wick to Inverness.
The 07:02 Inverness to Wick service terminated at Helmsdale and alternative transport was provided to Wick.
The 12:34 Wick to Inverness service started at Helmsdale, and alternative transport was provided between Wick and Helmsdale.
Network Rail said the freight train was travelling at "walking pace" when it derailed.