Scotland approves rare cancer drug bosutinib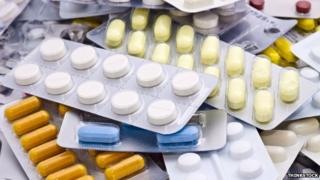 Scotland has become the first part of the UK to make a new drug available to patients with a rare form of cancer.
The Scottish Medicines Consortium (SMC) has approved the drug bosutinib for sufferers of chronic myelogenous leukaemia (CML).
Almost 600 people in the UK are diagnosed each year, with a 40% chance of surviving the next five years.
In 2012, 60 people were diagnosed in Scotland, the highest number since 2007.
SMC, the organisation which decides which medicines should be routinely available on the NHS in Scotland, used procedures aimed at improving treatment for those patients nearing the end of their life and those with rare conditions to approve the drug, which is also known as Bosulif.
'Fantastic news'
Professor Mhairi Copland, from Glasgow University, said the SMC decision was a new treatment option for CML patients "whose current therapies are no longer working or are causing significant side effects."
She said: "The comprehensive and pragmatic approach of the SMC in evaluating treatment, including consultation with expert clinicians and patient groups, is beginning to pay dividends for patients in Scotland."
David Ryner, chair of the CML Support Group, said is was "fantastic news" for patients.
CML sufferers in Wales and Northern Ireland have to prove "exceptional circumstance" to be considered for the treatment.
It has already been made available to some patients in England, through the Cancer Drugs Fund, but the manufacturer Pfizer said future changes mean it may no longer be available.
The drugs company is now calling on the UK Government to find a "fair and sustainable solution" to access such treatments.
The SMC approved a total of four new medicines for use on the NHS at its latest meeting, including the drug Abraxane as a new treatment for pancreatic cancer.