Tartan Army vote on Flower of Scotland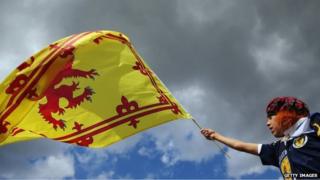 Members of the Tartan Army are being asked to vote on whether Flower of Scotland should be the country's national anthem.
It comes after the question was raised at the Scottish Parliament's public petitions committee.
The SFA said it believes the answer should come from its "most loyal fans" and has opened up an online vote for the Scotland Supporters Club.
The options include Flower of Scotland, Caledonia and Scotland the Brave.
Supporters can also choose Highland Cathedral or make their own suggestion.
The online poll closes at 17:00 on Wednesday.