Church of Scotland launches credit union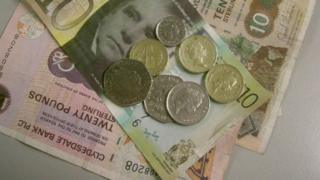 The Church of Scotland has launched a credit union, claiming it will offer a 'fairer' alternative to banks and payday lenders.
The Churches Mutual Credit Union (CMCU), is a collaboration with the Church of England and other denominations.
About 35,000 people in Scotland, including church ministers, elders and employees can join initially.
There are plans to extend the membership at a later date.
A "Founder Member's Bond" will be the first product available, with ordinary savers accounts and loans on offer in March.
The CMCU also hopes to offer ISA savings accounts.
Financial inclusion
In 2010 the Church of Scotland set up a Commission on the "Purposes of Economic Activity" to look at what had gone wrong with the financial system.
Credit unions were identified as a more ethical approach to finance.
The Right Reverend John Chalmers, Moderator of the General Assembly of the Church of Scotland, said: "It is through the development and support of new, co-operative and mutual projects like this that society can offer more in the way of financial inclusion.
"A new player in the marketplace will help to influence the financial services industry, and to put first the needs and consideration of all."
Mr Chalmers said the Church was already forming partnerships with local credit unions and the CMCU would allow them to offer a facility in every community in the country.
The Methodist Church, Scottish Episcopal Church and the Church in Wales, are also partners in the CMCU.
More than 60,000 people across the UK will be eligible to join initially.