Flower of Scotland tops SFA anthem poll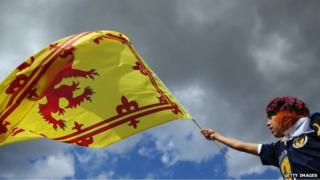 Scotland's football supporters have voted for Flower of Scotland to be officially recognised as the country's national anthem - but only just.
The Scottish FA was asked by MSPs on the Scottish Parliament Petitions Committee to provide the view of fans.
The poll was circulated to Tartan Army members and on Twitter and Facebook.
The SFA said 56% wanted the anthem officially recognised, but while social media backed the move, the official supporters' club members were against.
The poll was circulated to 35,000 Scottish Supporters Club members as well as through the SFA's Twitter account and the national team's Facebook page.
It found 65% of the 23,000 responses on social media were in favour of the anthem but 60% of the 12,606 Tartan Army members who responded were not.
The Scottish FA also gave fans the opportunity to suggest alternatives to Flower of Scotland.
Caledonia, the Dougie MacLean classic, figured prominently along with Scotland the Brave as suggested alternatives.
'Passion and engagement'
The Proclaimers favourite 500 Miles was also often mentioned.
The feedback will be submitted to the Petition Committee.
A Scottish FA spokeswoman: "The response to the committee's inquiry has been incredible.
"The easy option would have been to gauge the board's view but the wider consultation not only demonstrates the passion and engagement of our 35,000 supporters club members but also highlights the power of social media.
"While the majority of responses were in favour of Flower of Scotland being officially recognised by the Scottish government, there is also plenty food for thought in the feedback analysis."
She added: "There is clearly an appetite among a section of supporters to give consideration to a new anthem. Scotland the Brave retains an affinity among an element of the supporters with the popularity of The Proclaimers' crowd-pleaser endures."