Scots ultra-runners complete epic trek across Namibian desert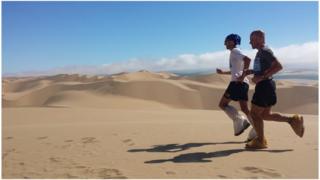 Two Scottish ultra-runners have taken on sandstorms, heat, and towering dunes to cross the Namib desert.
Dr Andrew Murray and Donnie Campbell have just returned from their "epic and amazing" trek in south west Africa.
The pair were running more than 50km every day on heavy sand, completing the 504km crossing in nine days.
Dr Murray told BBC Scotland's Good Morning Scotland programme: "It was completely exhausting but amazing at the same time."
The Namib desert crossing took the men across Namibia from Luderitz to Walvis Bay.
'New ground'
Mr Campbell said: "Some of the parts that we ran no-one had ever been there, never mind in a car, never mind running it, so you're setting new ground, seeing new things that have never been seen before.
"There was a few sandstorms - that was one of the most difficult things to cope with - navigation and also just trying to keep the sand out of your mouth and your eyes."
The pair had support from four jeeps - to them keep supplied with water and food and monitor their progress.
Dr Murray said: "It was just an absolutely epic and amazing experience - some huge dunes to run over, some incredible wildlife to see, but we were completely shattered at the end, it was completely exhausting but amazing at the same time.
"Almost every footstep was on sand and not only the sand that you'd run along a beach but a lot of it was up in the high sand dunes - I suppose it almost feels as if it's one step forward and pretty much the same distance back.
"So usually when we can run about 15km an hour at times we were only doing 3km per hour."
The GP from Edinburgh is no stranger to ultra-distance and extreme running, having run from the north of Scotland to the Sahara, and won races at the North Pole, Antartica and Outer Mongolia.
But he revealed the latest sand-blown adventure also reinforced for him how special Scotland is.
"When you get back you think about Namibia, you think about these sand dunes, you think about the creatures you've got out there," he said.
"But you also reflect about what we've got in terms of the mountains and the beaches here and you're almost grateful for the rain believe it or not."
And the former Scottish government physical activity "tsar" stressed that exercise is not all about extremes, but also small things like walking 30 minutes every day to get the "happy hormones" going.
Mr Campbell said his next venture is getting married next month, followed by maybe a few months to rest up, recover, and come up with another challenge.