Top Scottish sights and landmarks given Chinese names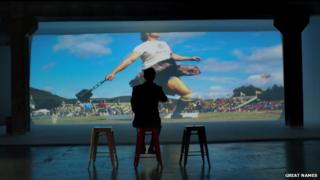 Scottish attractions have been given Chinese names in a tourism drive which is helping promote "Strong-man skirt parties" and "Baa baa pudding".
VisitScotland said the translations for Highland Games and haggis were among suggestions put forward in a Great Names public vote across China.
Glen Coe, Splendid and beautiful valley, was the top Scottish contender in a list of 101 British landmarks.
Overall, 13,000 new names were suggested during the 10-week campaign.
It built on the existing trend of giving Mandarin names to favourite celebrities, places and foods and invited votes across the internet, Weibo, WeChat and YouTube.
Glen Coe received the third highest number of votes overall - 24,505 - with the Highland Games the most popular Scottish event.
Other top Scottish suggestions included:
Kilt - (科特短裙) - Ke-te short skirt (homophone for "kilt")
The Willow Tea Rooms - (唯乐茶屋) - Always happy tea room
Malt Whisky Trail - (香酒巷) - Fragrant liqueur lane
The Wallace Monument - (勇者心碑)- Monument to brave heart
Glenfinnan Viaduct - (天堑飞虹) - Highland rainbow
Royal Mile - (融蕴美径) - A beautiful street with long history and profound culture
Balmoral Castle & Estate -(唯爱城堡) - One true love castle (sounds like Victoria I)
Loch Ness Monster - (尼斯魅影) - Phantom of Loch Ness
The Kelpies - (铠魄巨马) - Glorious armoured giant horses (homophonic with Kelpies)
Loch Lomond & the Trossachs National Park - (山湖怀抱醉梦乡) - Mountain lakes get you drunk on dreams
Cairngorms National Park - (云原雪岭) - Snow mountains reaching into sky
Denise Hill, head of international marketing at VisitScotland, said: "The Great Names campaign has proved a fun and entertaining way for us to engage with Scotland's Chinese market, which is growing year-on-year.
"These extraordinary new monikers will only serve to lend even more intrigue and romance to places throughout Scotland which in turn will lead to further increases in visits from China."
Andy Scott, the artist and sculptor behind the striking Kelpie horse heads, said: "I am delighted that the Kelpies have reached out to a new audience and that they have been recognised with such an evocative and dynamic Mandarin name."
He added: "I hope the campaign brings even more visitors to our 'glorious giants' in Falkirk."
VisitBritain said it would work with all the attractions from the Great Names campaign on the best way to use the results.
It said more than 150,000 visitors came to Britain from China in the first nine months of last year, contributing £411m to the UK's economy.