Mortality rates in Scottish hospitals fall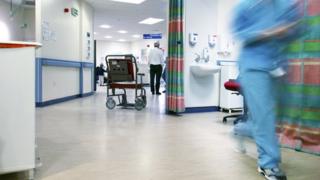 The number of people dying within a month of admission to hospital has continued to fall, according to NHS statistics.
The Hospital Standardised Mortality Ratios (HSMR) were calculated over the period between October to December 2007 and July to September 2014.
The figures showed the HSMR had decreased by 16.3% over seven years.
Six of Scotland's 31 hospitals have shown a reduction of more than 20%, the target for December 2015.
They were Crosshouse Hospital in Kilmarnock; Forth Valley Royal Hospital in Larbert; Ninewells Hospital in Dundee; Southern General Hospital in Glasgow; Queen Margaret Victoria Hospital in Dunfermline and Wishaw General Hospital in Lanarkshire.
Nineteen hospitals showed a reduction in excess of 15%.
Improving care
The Scottish Patient Safety Programme (SPSP) was established with the overall aim of reducing hospital mortality by 15% by 2012.
This was then extended to a 20% reduction by December 2015.
Since 2007, there has been a reduction in HSMR in 30 of the 31 hospitals participating in the SPSP.
Only one hospital in Scotland exhibited an increasing trend in HSMR over time - the Golden Jubilee National Hospital in Clydebank.
The report said this was because it provides specialist services with a mixture of patients that differs substantially from the majority of other hospitals in Scotland.
The HSMR is based on all acute inpatient and day case patients and takes account of those who died within 30 days from admission.
This includes deaths that occurred in the community as well as those occurring in hospital.
Deaths that occur in hospital may be inevitable because of the patient's condition.
However, there are some deaths that can be prevented by improving care and treatment or by avoiding harm.
Health Secretary Shona Robison said: "It is encouraging to see that our commitment to patient safety across the health service is delivering such strong results, especially at a time when our NHS is treating more people, with more complex needs, than ever before."
She added: "Only Scotland across the UK is publishing and driving improvement in our NHS through the use of mortality data in this way.
"And we have shown we will investigate and act when this points to potential issues, such as in NHS Lanarkshire two years ago."