First Minister's Questions: The eyes have it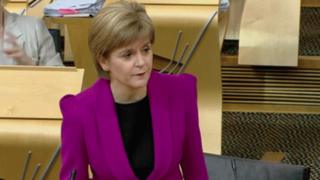 Look me in the eye, you could see them thinking. Look me in the eye. When would you say that? Perhaps if you doubted your partner. Or your offspring.
Or perhaps if you are a lawyer interrogating a witness. Or a copper with a suspect. But today that sentiment was scattered throughout the session of questions to the First Minister. Either explicitly or implicitly.
The explicit version emerged firstly in exchanges between Nicola Sturgeon and Labour's Kezia Dugdale. Ms Dugdale was concerned that the provision of child care - on the ground, in the nursery - did not match the stated ambition of the Scottish government.
Once more, she deployed her iterative method of questioning - building one point upon another to reach a predetermined conclusion. Once again, it was rather well constructed.
Ms Sturgeon readily conceded that provision was less than total - but she resolutely defended the record of the SNP administration in seeking improvement. It was, she said, a "massive success story".
City council
Tell that, advised Ms Dugdale, to parents in Glasgow. Plainly, the Labour deputy leader felt that the response would be the familiar Glasgow one: Aye, right!
Ms Sturgeon saw her chance. If confronted by a mother in Glasgow, she said, she would "look her in the eye and remind her who runs Glasgow city council." (For the avoidance of doubt, it's Labour.)
The FM then went on to note that Labour had departed from its favourite topic of health waiting lists. Could that be, she speculated, because the Labour leader Jim Murphy had been caught out making unsustained claims about the problems supposedly facing the NHS in Scotland's largest city?
By now, though, Kezia Dugdale had had her shottie. It was Ruth Davidson's turn. And we were back to ocular staring.
The Tory leader endorsed efforts by parents at a Milngavie primary school to save it from closure. The families at St Joseph's want to run it as a directly-funded trust, exempt from local authority control.
In essence, Ms Sturgeon said yes, no and maybe in a single answer.
Yes, she would meet the parents.
She would listen to ideas and suggestions. A maybe?
But the likely outcome appears to be no.
The FM reminded MSPs that the option of self-governing schools in Scotland was repealed in 2000. When she met the parents and heard their plea, she would "look them in the eye" if her government could not meet their request.
Which brought us to Willie Rennie. The Liberal Democrat leader pursued a topic he has made his own, despite some competition. That of police tactics in stopping and searching youngsters.
He seemed to feel that Police Scotland comments on this matter had been less than straightforward. Indeed, Mr Rennie said that trust in the police had been "shattered" by this series of events.
Ms Sturgeon attempted to set out the position, to restate policy as evinced by the force. Yes, yes, said Mr Rennie - but what did the FM think? Look me in the eye, he implied.
The FM thought that her administration should offer support to the police. This drew enthusiastic applause from those around her, especially ministers and particularly John Swinney. She had confidence, she said, in Police Scotland.
While policy was against so-called "consensual" stop and searches - those without a formal statutory basis - it was important to consider the practical implications.
Those were duly considered when MSPs took evidence from Sir Stephen House, the Chief Constable, and colleagues in committee. Sir Stephen offered reassurance - but several committee members seemed sceptical.
Look me in the eye, you could see them thinking.